BofA Is Said to Tap Brakes on Risk, Spurring Banker Departures
(Bloomberg) -- The message came from one of Bank of America Corp.'s most powerful board members across large video screens: "We're not going to do anything crazy to the customer -- and we're not going to do anything crazy for the customer."
The declaration by Frank Bramble Sr. kicked off the firm's shareholder meeting in April. It wasn't just for public consumption: Inside the investment bank, risk-taking is being tamped down this year, according to senior executives and dealmakers. The firm has become more selective when asked to advise potentially thorny deals, and it's easing off certain overseas markets, they said. Some are grumbling, worried they're missing chances to profit.
The caution partially stems from Bank of America's massive losses on loans in the wake of the 2008 financial crisis and a desire to be ready when the credit cycle sours anew. Such concerns flared in December when the firm lost roughly $300 million on dealings tied to South African furniture retailer Steinhoff International Holdings NV. The aversion to risk became visible in some pockets of first-quarter results and has since grown more pronounced in a number of league tables ranking Wall Street firms. Among the highlights:
After reaching a record in 2017, Bank of America's fees for advising on deals tumbled 27 percent in the first quarter from a year earlier, the steepest drop among big U.S. banks.
Since March, when an internal probe of the Steinhoff dealings wrapped up, the bank's sales of emerging-market debt have declined by more than a third compared with a year earlier, even as the market for new bonds grew.
The bank has lost more share than any peer in arranging new equity deals in Europe, the Middle East and Africa this year.
And it recently fell behind JPMorgan Chase & Co. in offering leveraged loans in the U.S. this year, a market it's dominated since early 2009.
This account of the shifts inside Bank of America is drawn from interviews with more than a dozen senior executives and current and former bankers. Some said the firm's reluctance to take risks has contributed to defections of dealmakers this year. All spoke on the condition of anonymity to avoid jeopardizing their careers.
A Bank of America spokesman said departure rates have been normal and that the firm hasn't had trouble attracting new talent. More broadly, executives have repeatedly said they want to boost earnings without setting shareholders up for future losses.
"We are focused on growth, the right way, and that is allowing us to grow and to help our clients succeed," Christian Meissner, the firm's corporate and investment banking chief, said in a statement emailed by a spokesman. "We are one of the global leaders in our field. Our pipeline remains robust and we continue to serve our clients globally."
Bank of America's leaders have reasons to be leery of risks. Chief Executive Officer Brian Moynihan has spent most of his eight years atop the firm shelling out billions of dollars to clean up fallout from the financial crisis. In speeches to staff and the public since 2015, he's vowed never to repeat such missteps, promising the bank will pursue "responsible growth." Board members echoed the message in the video at the shareholders meeting.
Yet in December, Bank of America suffered the financial industry's largest hit on margin lending to Steinhoff's former chairman, Christo Wiese, when an accounting scandal sent the retailer's stock into a tailspin. Bramble, head of the board's risk-committee, played an instrumental role in organizing an internal probe into what happened. An outside law firm grilled employees, prompting finger-pointing between bankers, equity trading staff and risk officers, people with knowledge of the matter said at the time. The bank ultimately blamed "fraud by another party."
Now, behind the scenes, bankers say years-old plans pursued by Chief Operating Officer Tom Montag and his deputy, Meissner, to expand key business lines in investment banking are being reined in or shelved.
Their aspirations included winning a much larger share of the market for advising on deals and ramping up margin lending, according to people with knowledge of the matter. Yet investment bankers say it's gotten harder to quickly win permission to take on advisory clients. And margin lending is being curtailed.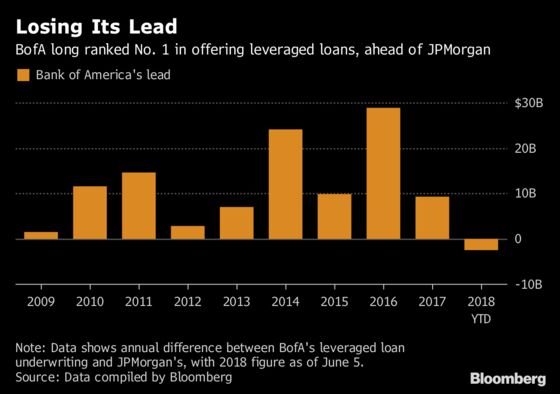 The firm vets incoming deals for potential conflicts of interest, reputational risks and other issues. It examines, for example, whether taking a job might affect lending relationships with other clients or expose the bank to criticism or litigation. While some rivals have taken an aggressive stance, setting out to navigate such pitfalls, Bank of America's senior executives and compliance staff have grown less willing, dealmakers say. An emphasis has instead been placed on forging or deepening long-term relationships with clients whose needs are simpler.
In margin lending, the bank is no longer making the particular kind of loan it gave to Wiese. And earlier this year the firm decided to sell off some riskier margin loans provided to wealthy clients and others, people familiar with the decision said at the time.
One top executive acknowledged the firm has adopted a more conservative stance than some competitors and said controllers can be slow to approve certain transactions. The executive also conceded that concerns about the credit cycle and Steinhoff loss have led the bank to sit out some deals. Still, the executive predicted, that should subside now that the Steinhoff review is done, avoiding a long-term drop in revenue from advising on takeovers.
Bankers see a more lasting impact. The firm's intense internal investigation into the Steinhoff loss has stoked anxieties among managers in many businesses, making them more averse to taking risks for fear that missteps could subject them to similar scrutiny, the people said. And the loss elevated the clout of risk managers within the firm.
Top executives, also concerned the credit cycle might soon turn, have grown more reluctant to chase deals beyond core areas in the U.S., Canada, Western Europe and Japan, the people said. Some bankers said it's akin to the concept at Wells Fargo & Co., which focuses on American firms, with added international capabilities. Seven bankers said it's gotten harder to line up approvals for emerging-market transactions, especially outside of Brazil and the Middle East.
The reticence is hastening the exit of some investment bankers and encouraging others to examine their options, people with knowledge of their deliberations said. By mid-May, at least 14 managing directors had left this year, including 10 in the U.S., the people said.
While that pace is akin to last year's, people with knowledge of the decisions said some departed, specifically, because they believed they could take bigger risks and make more money elsewhere, or at least work in an environment with less red tape. Meissner said the firm has also hired 15 people at the same level this year. A bank spokesman declined to identify them.
Others left for a mix of reasons. Bank of America's highest-ranking female investment banker, A.J. Murphy, stepped down in May as head of the global capital markets unit to join a private-equity firm. She declined to comment.
The search for her replacement became the talk of the staff. Montag and Meissner, both veterans of Goldman Sachs Group Inc., spent at least five weeks debating candidates, spotlighting differences in their priorities and spurring speculation that their relationship was becoming strained, according to people within the firm. One senior executive said the deliberations were careful because the post is important, and that their working relationship remains intact.
Montag tended to prefer candidates who shared his background as a trader, the people said. Meissner wanted someone from banking, a move that would ensure his continued influence over one of the highest-risk units in the firm. They compromised by appointing two co-heads to take the job, one who was closer to Montag and the other to Meissner, the people said.
Read more: BofA picks Zapparoli, Gadkari to run $5 billion banking unit
Other departures have ranged broadly across businesses. Murphy's announcement tailed exits by Michael Dolce, a leveraged finance banker headed to private equity, and financial sponsors dealmaker Harold Varah to Royal Bank of Canada.
Senior bankers Mandar Vadhavkar, Aaron Packles and Cavan Yang all left this year, as did Bill Frauenhofer, the head of global semiconductors who took a similar job this month at Morgan Stanley. Other departures in the U.S. included telecom specialists Anwar Zakkour and Fehmi Zeko, as well as Sravan Emany, a health-care banker.
In Europe, the region's president, Alex Wilmot-Sitwell, departed in March and later took a job at Perella Weinberg Partners. Energy investment banker Paul Wheeler and infrastructure specialist Philippe Chryssicopoulos both left for rivals, and in April, the co-head of the firm's European corporate and investment banking business, Bob Elfring, announced he would leave his position after a five-month transition period.
"It is not uncommon to see people move this time of year," Meissner said in the statement. The departed bankers declined to comment or didn't respond to messages.
The message from Moynihan and his board of directors is that growth and risks must be balanced carefully.
"You can't just say, 'Here's responsible growth.' The question is what do you do to live by it?" Moynihan said in the video shown to shareholders in April. "It comes from the way we design the activities that we do for the customers. It comes from the businesses that we choose to be in and not be in."