Atlassian Rebuffs Microsoft's Coding Bet With $1 Billion Surge
(Bloomberg) -- Atlassian Corp. has added almost $1 billion in market value since Microsoft Corp. confirmed Monday it was buying GitHub for $7.5 billion, a move that initially spooked investors about the possibility of tougher competition.
It turns out the deal may actually bolster Atlassian's Bitbucket business, which competes with GitHub in the business of storing code for companies and software developers. Monday was Bitbucket's best day ever in terms of new user sign ups, according to Sean Regan, head of growth for software teams at Atlassian.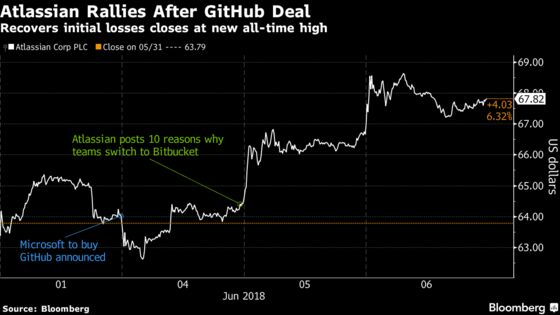 "Atlassian offers better products at lower cost," Regan said in a phone interview. Bitbucket prices are "significantly lower than GitHub's" due to its focus on spending more on research and development than sales and marketing.
Investors responded positively to a blog posted on the Bitbucket website Monday listing 10 reasons why teams are switching from GitHub after the Microsoft deal. Shares of Atlassian rose 5.3 percent over the past two sessions, their biggest two-day gain in almost a month. The stock has gained 49 percent this year, adding to an 89 percent surge in 2017.