A New Beef Baron Leads Brazil's Charge for World Domination
(Bloomberg) -- A new Brazil beef baron has stepped into the global spotlight -- and he's not quite like the guys who got all the attention before him.
Marcos Molina dos Santos, the founder and chairman of Marfrig Global Foods SA, is modest, media-shy and talks the language of butchers rather than bankers. All the same, he's getting lots of attention as Marfrig breaks out to become the world's second-largest beef producer with its first acquisition overseas in seven years. Brazilian companies are now in charge of about a third of the U.S. beef-packing industry.
Previously, that role was held by top producer JBS SA, which burst onto the stage more than a decade ago with a brash $20 billion acquisition spree. The partial funding of those deals by development bank BNDES became the subject of an investigation into alleged bribes paid by Joesley Batista, who along with his brother, Wesley, ran JBS for a decade. The scandal forced them to step down from the company last year.
Marfrig is stepping in to pick up where JBS left off. It surprised investors by buying control of Kansas City-based National Beef Packing Co. in a $969 million deal that will double Marfrig's revenue. (Both Marfrig and JBS tried to buy the American meatpacker about a decade ago and failed.)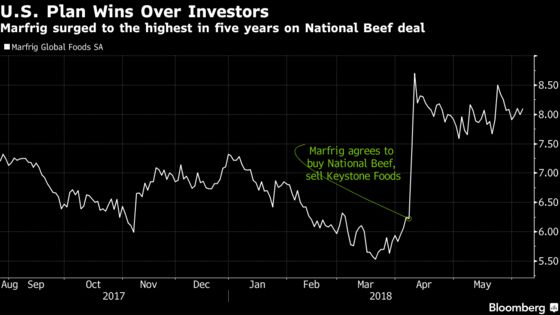 Molina, 48, may not be the crack financial negotiator that Wesley Batista was -- nor is he as charismatic as Joesley. Instead, industry watchers say he's a relationship guy who makes a point of being surrounded by the right people.
"Big companies are frequently arrogant, but Marfrig never was," said Marc Gautier, a managing director at JP Trinity Capital in Sao Paulo. Molina "was always very open to listening to financial advisers. That has helped him a lot."
To fund the National Beef deal, which was completed this week, Marfrig has agreed to divest Keystone Foods LLC, a U.S. supplier of chicken nuggets to McDonald's Corp., for an estimated $3 billion or more. A sale of Keystone, which will likely be announced sometime in the next few weeks, and the plan to use the proceeds to also pay down debt won support from both analysts and investors. Marfrig's stock has climbed 30 percent since plans for the deals were announced April 9.
Molina, who declined to comment for this story, was only 12 when he started working at his father's butcher shop. He wasn't even old enough to drive when, in the mid-1980s, he founded the business that would later become Marfrig. He began by trading cattle organs and offal -- parts of a butchered animal that are typically discarded. At the time, Brazil was in the midst of runaway inflation and economic crisis, with more than a quarter of the population living in extreme poverty.
Molina soon became the nation's biggest seller of offal, then transitioned into premium cuts in the 1990s. It wasn't until 2000, however, that he bought his first stake in a slaughtering house.
While Molina also embarked on an ambitious acquisition spree that boosted sales 10-fold in five years, the bet didn't pay off as well as it did for JBS. Marfrig hasn't posted an annual profit since 2012 and shares still trade at just half their 2007 initial public offering price. After spending about $4 billion to expand in pork, chicken and processed foods globally, Marfrig was forced to reverse course and started shedding assets after being overwhelmed by debt.
The burden looked nearly insurmountable in 2015, when 75 percent of the company's adjusted earnings was consumed by debt-servicing costs. Molina stepped down in 2013 and handed control of day-to-day operations over to Sergio Rial, the former chief financial officer of Cargill Inc. and currently the top executive at Santander in Brazil.
By last year, debt-servicing costs had declined to less than 50 percent of earnings after Marfrig sold U.K. chicken producer Moy Park and processed-food maker Seara to JBS, while part of its debt was converted into equity.
Like the Batistas, Molina was also targeted in a bribery probe related to loans from state-run bank Caixa Economica Federal in 2012. Last month, Molina agreed, without acknowledging guilt, to pay 100 million reais ($26 million) as indemnity in a deal that Marfrig says exempts it from any penalties. Molina could still be tried in the case and face additional fines, prosecutors say.
JBS denied any wrongdoing, adding that transactions with BNDES were in accordance with legislation and market practices.
Marfrig fell 0.7 percent to 8.04 reais in Sao Paulo on Thursday. The shares have advanced 9.8 percent this year, giving the company a market valuation of about $1.3 billion.
Molina, who still controls Marfrig with a 34 percent stake owned by a family holding company, now has a second chance to finish what he started so many years ago -- only this time he's going back to his roots and focusing on a single commodity class: beef.
"He built a great company, struggled with growing pains and knew when it was time to downsize," said Ricardo Florence, a former CFO at Marfrig. "All the pieces that came together to create Marfrig made sense in his head, but it wasn't possible to keep it together. Maybe the key ingredient Molina lacked is exactly what he gains now with National Beef: focus on a single protein, a single chain."