Veteran Investor Says Second-Longest Bull Market Has Room to Run
(Bloomberg) -- Malcolm Polley has witnessed his share of market crashes during three decades of asset management. He doesn't expect another one soon.
The 55-year-old investor expects the second-longest bull market in history to continue for at least another year, propelled by strong earnings growth and a fiscal stimulus package that should help offset rising interest rates. He predicts that the S&P 500 Index, which has gained 3.2 percent so far in 2018, will climb by at least 10 percent this year.
"You've got a market that's in pretty good shape," said Polley, who oversees $1.2 billion as president and chief investment officer at Stewart Capital Advisors LLC in Indiana, Pennsylvania. "Valuations haven't gotten nearly as stretched as they got toward the end of the last century. We're still finding plenty to buy, unlike 1998 when I just couldn't find anything."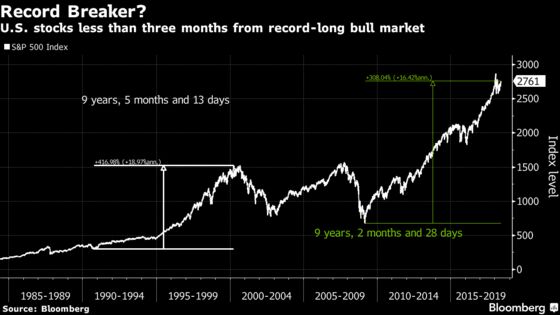 Polley said in an interview that the current bull market, now in its ninth year, could last 11 years. That would outpace the decade-long run that ended with the 2000 dot-com bust. He favors stocks with a market capitalization below $5 billion, including those in the technology, industrial and non-bank financial sectors.
Although volatility surged earlier this year, historically speaking, it wasn't all that extreme, he said. In fact, the VIX still sits almost 40 percent below its average since 1990.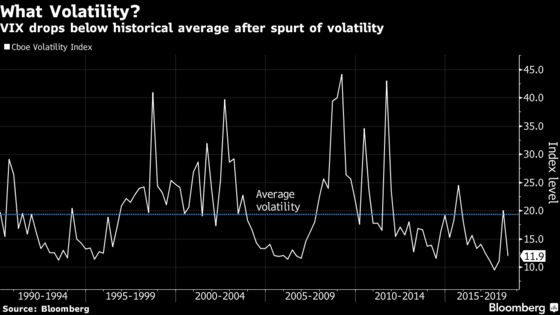 Here's what else Polley had to say on U.S. and international investments:
He expects developing-nation stocks to outperform U.S. peers for the third consecutive year.

"I don't think liquidity is a big issue."
India is the "most interesting" given its relatively democratic society, English language usage and growing population base.

While the U.S. dollar is probably on a long-term path downward, it's unlikely to suffer meaningful declines short-term.
"My fear all along has been that we end up in a global trade conundrum."

"Donald Trump said a number of months ago 'trade wars are good, we can win this.' Obviously, he's not a student of history because the last major global trade war pre-dated the Great Depression. We don't want that."
"So far all it's been is saber-rattling."

He said demographics such as China's aging population and Russia's declining life expectancy present some warning signs for the asset class.
Polley said he's not buying any cryptocurrencies.
"What's its value? I don't know. Ethereum probably has the best name because it basically means air. Is that basically what cryptocurrency is? I don't know that cryptocurrency is a viable long-term alternative."