Sonos Debuts Alexa Home Theater Speaker, Ups Apple Integration
(Bloomberg) -- Sonos Inc. introduced the Beam home-theater smart speaker and said its products would be integrated in July with Apple Inc.'s new AirPlay 2 wireless music-streaming system.
The Beam is a sound bar designed to sit below a television set and replace the speakers built into existing TVs. It can also link to other speakers from Sonos around a home and be controlled with a physical remote or via Amazon.com Inc.'s Alexa digital-voice assistant, Sonos said Wednesday during a presentation in San Francisco. Like other Sonos smart speakers, it also will be integrated in the future with Google's voice-activated Assistant.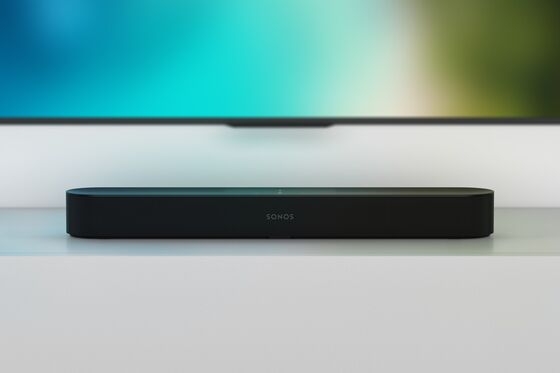 While Amazon, Alphabet Inc.'s Google and Apple typically highlight their music and voice-activation services on the companies' individual smart speakers, Sonos uniquely lets users connect to multiple voice assistants and stream music via other companies' services. Sonos doesn't offer its own music or voice-activation services.
Sonos is said to be planning an initial public offering this summer, in what would likely be one of the year's most important technology IPOs, people familiar told Bloomberg News in April. Last year, the Santa Barbara, California-based company kicked off its approach to integrating the services of other technology companies when it launched the Sonos One with Amazon's Alexa. The company said it would also be working to eventually integrate voice assistants from China-based technology companies.
AirPlay 2, which Apple released last month, allows users to stream music from an iPhone or iPad to multiple speakers at the same time throughout a home. It's also a key feature introduced in May to Apple's own HomePod speaker.
In a demonstration on Wednesday, Sonos's integration allowed music to be controlled via voice through Alexa, even though the song came from the Apple Music app on an iPad. It integrates with Apple's digital-assistant Siri on the Apple devices themselves, rather than on the speaker like Alexa as well as Google Assistant in the future.
Sonos said the Beam would go on sale July 17 and cost $399, less than $699 price for its original Playbar and Playbase living room devices. It will connect to TVs via a standard HDMI connection, allowing people to turn on their TV with a voice command. It will also integrate with a connected Amazon Fire TV set-top box.