Shady ICO Issuers Are Taking `Bags of Cash' to Border, U.S. Says
(Bloomberg) -- A top financial regulator gave a strong warning Wednesday that U.S. scrutiny of initial coin offerings is just getting started.
Securities and Exchange Commission Chairman Jay Clayton, speaking at a conference in New York, said companies raising money through digital-token sales shouldn't have any illusions that the government will treat them differently than firms participating in traditional stock offerings. He added that the market deserves close attention because the SEC has already seen examples of fraudsters fleeing the country after persuading U.S. investors to back their ICOs.
"I am not going to change the way we approach the offering and trading of securities as a result of the fact that you put it in the form of a token," Clayton said at the Sandler O'Neill Global Exchange and Brokerage Conference. "I'm protecting the integrity of the market. The behavior we see in this is pretty bad. We've got guys with bags of cash headed to the border. That's not our securities market."
Despite a crackdown by the U.S., China and other countries, companies' have already raised more than $9 billion through ICOs in 2018, surpassing last year's record of less than $4 billion, according to ICO data tracker CoinSchedule. Messaging service Telegram attracted $1.7 billion while Block.one, a startup behind the EOS token, is on track to raise about $4 billion in an almost yearlong offering expected to close Friday, which would make it the largest-ever fundraising of its kind.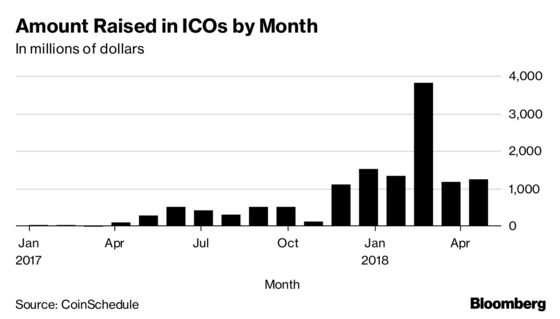 Clayton has been signaling to the market since last year that he views most ICOs as securities, meaning they must register with the SEC and be subject to its rules, such as a requirement that the companies trade on tightly regulated platforms.
Clayton also expressed concern about the health of the public U.S. stock market. As hot startups like Uber Technologies Inc. keep their shares off public markets, he noted that the general public is unable to invest in an increasingly large segment of companies: those awash in venture capital cash and other private funding. Instead, only the wealthy get to invest in them.
"I don't like it from a public policy perspective that we're increasing the market for the privileged and decreasing it for ordinary investors," Clayton said.