Samsonite Shareholder Says Short-Seller Chose a Good Target
(Bloomberg) -- A shareholder in Samsonite International SA is sticking with his investment after short-seller Blue Orca Capital LLC's allegations of resume fraud and poor corporate governance led to the resignation of Chief Executive Officer Ramesh Tainwala last week.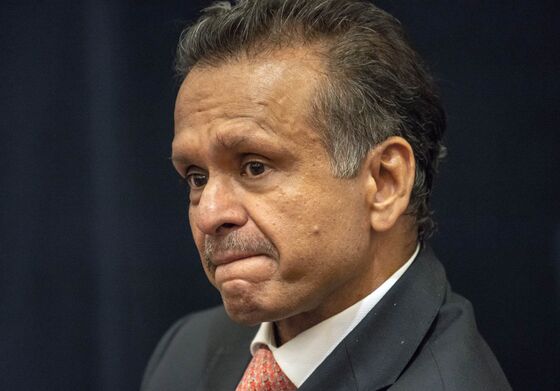 Mark Phelps, chief investment officer of global concentrated equities at AllianceBernstein that holds about 1 percent of Samsonite shares, had placed an order to purchase more shares if the stock price sunk to the mid HK$20s. For now, he sees growth in Samsonite.
Tainwala's resignation was seen as a success for Blue Orca, which was founded last month by Soren Aandahl, former director of research at Glaucus Research Group. Blue Orca "picked a good target" in Samsonite, Phelps said.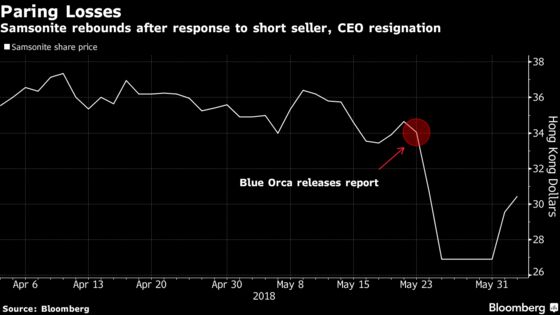 "There were some things that were questionable, but not in our opinion particularly material," Phelps said in an interview Monday. "We're not really seeing any of the issues raised by the short seller that are going to take our earnings forecast down. It was annoying, but we stuck with our investment."
The world's biggest luggage maker will benefit from increasing travel demand, and its two leading brands, Samsonite and Tumi, will still be seeing growth in five years, according to Phelps. The company has addressed most of the points raised by Blue Orca and investors now want to see Samsonite carry on with its business, he said.
Samsonite shares rose about 15 percent since the CEO quit June 1, paring a 21 percent drop after Blue Orca's report was published. The stock fell 0.3 percent Wednesday to HK$31 in Hong Kong.
Samsonite has also gotten support from its biggest shareholder. Capital Group Cos., one of the world's largest investment firms, has continued to increase its stake in Samsonite since the Blue Orca report.
Morgan Stanley raised its target price on the shares to HK$32.80 from $HK31 in a research note on Tuesday. Analysts including Dustin Wei said they're "not too concerned about the leadership change."
"We think the key debate for the stock should be whether both above-industry growth and margin expansion can come at the same time," Wei said. "In our view, constant margin expansion isn't easy to achieve if the focus is on top-line growth."