Pernod Targets Chinese Millennials With Cocktail Kits
(Bloomberg) -- French distiller Pernod Ricard SA is targeting Chinese millennials with services such as cocktail-kit delivery as it aims to double the share of international spirits in the country's $156 billion alcohol market.
After establishing itself in China with high-end brands like Chivas Regal whisky and Martell cognac, the company is looking to sustain growth by appealing to the country's emerging middle class, Chief Executive Officer Alexandre Ricard said. The goal: to drive the share of western-style spirits in China from the current 1 percent of volume to 2 percent by 2025.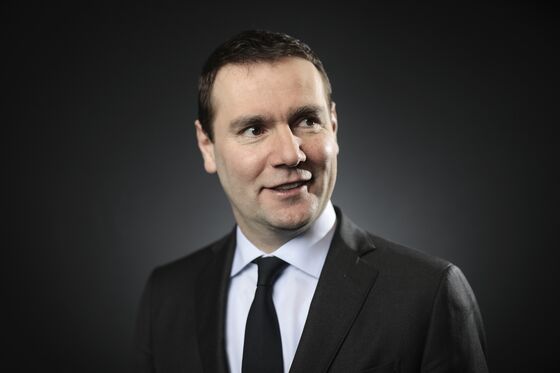 "Here's a big opportunity with the sheer volume of middle-class Chinese consumers with enough disposable income, which will keep growing into the future,'' Ricard said in an interview in Shenzhen, where the company is holding an event for investors and analysts.
Pernod is making a big bet that its mass-market brands like Absolut Vodka and Ballantine's whisky will catch on in a country where the drinking culture is dominated by the local grain-based baijiu. It says it's leading the way with a 40 percent market share of China's international spirits segment, ahead of rivals like Diageo Plc.
Shares of Pernod Ricard have gained about 15 percent in the past year, compared to a 17 percent increase for Diageo. Pernod's stock slipped as much as 0.7 percent in early trading in Europe on Thursday.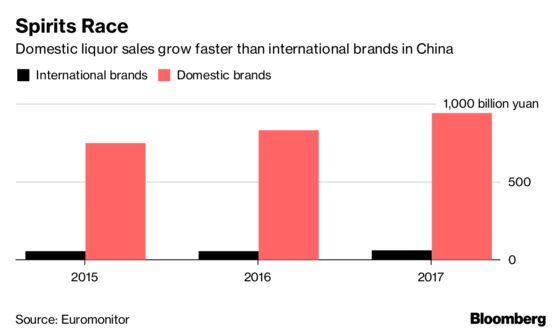 Many of the French company's local innovations are adapted to the fast-moving e-commerce market. Since consumers get quick delivery from ordering online, they like smaller bottle sizes, Ricard said. The company is also selling kits that provide all the ingredients for classic cocktails, delivered to homes within an hour. Pernod wants to expand that service beyond China, Pernod China brand director Liya Zhang said.
In another pitch to Chinese millennials, Absolut vodka sponsored a television rap contest. Pernod Ricard has also begun selling premixed highballs, a combination of whiskey and soda that was popularized by Japanese convenience stores.
Pernod Ricard is trying to convert baijiu drinkers with a Martell cognac line, named Distinction, that's meant to be drunk in small shots during multicourse meals, as baijiu is. The fiery local liquor is an essential part of social gatherings and celebrations in China.
Asia has fueled Pernod Ricard's growth, with net sales in the twin engines of China and India growing 19 percent and 14 percent respectively in the nine months through March.
"It took 15 years to get to 1 percent,'' said Ricard, referring to the current penetration of international spirits in China. "To double this by 2025, it's both a long time and it's tomorrow.''