Leveraged Loans Margins on Track to Fall Below Pre-Crisis Lows
(Bloomberg) -- The leveraged loan market may not be in a bubble, but it sure looks frothy as spreads tighten to levels unseen since before the financial crisis.
The premium paid on top-rated leveraged loans above the London interbank offered rate has pushed to below 190 basis points, the lowest levels since 2007, according to JPMorgan's benchmark index. And about $57 billion of institutional loans have recently priced at 175 basis points, Bloomberg data show.
Now that better-rated borrowers have succeeded in cutting spreads, a margin of 150 basis points over Libor is the next target.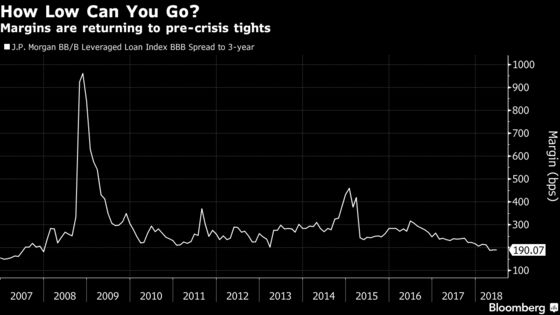 "The signals that we may get to L+150 are there," said Corey Geis, director of capital markets and head trader at Marble Point Credit, an asset manager with $3.6 billion in assets under management. "I don't think it's a function of 'if,' I think it's a function of 'when.'"
About $120 billion of institutional loans were launched in May, up from $79.9 billion in April, according to data compiled by Bloomberg. Of this $104 billion priced, compared to $71 billion in April. The last time the primary loan market was busier was in January 2017, when about $178 billion loans were launched, a post-crisis record.
Collateralized loan obligations, the biggest buyer base for leveraged loans, will determine how low spreads can go.
"The challenge CLO managers have is when you get to this level of tightness of L+175, 150, it really begins to impede on the arbitrage," Geis said.
New CLO issuance jumped to $18.3 billion last month from $16.3 billion in April, the most in three years, Bloomberg data show.
Since Japanese investors are big buyers of CLOs, they may also have a say. A big driver of that tightening has been the dollar-yen five-year cross currency basis swap, which has also narrowed.
Foreign demand -- specifically from Japan -- could push CLO pricing down, according to Michael Marzouk, portfolio manager at Pacific Asset Management, which has more than $4 billion of loans under management.
If rising rates, which have weighed on investment-grade spreads, stabilize, it may also lead to tightening CLO liabilities, Marzouk said.
Retail investors may also help drive the margins lower as the "all-in yield would work for some," Geis said.
Though issuers are largely getting their way, investors have flexed their muscle, resulting in a handful of pulled deals. Borrowers including VICI Properties, ADS Tactical and American Axle have shelved repricing efforts in the past two weeks.