Jack Daniel's Braces for Mexico Levies on Tennessee Whiskey
(Bloomberg) -- Mexico's tariffs of 25 percent on Tennessee whiskey, in retaliation for President Donald Trump's levies on its steel and aluminum, could spell bad news for the distiller of Jack Daniel's in one of its biggest growth markets.
Brown-Forman Corp. said it's hard to accurately forecast future sales growth with so much uncertainty surrounding the proposed tariffs. Canada and the European Union have also threatened to add duties to U.S. whiskey.
The Louisville, Kentucky-based company referred to "concerns over potential retaliatory tariffs on American spirits" in its earnings report released Wednesday. If nothing major changes, Brown-Forman said it expects underlying net sales growth globally of between 6 percent and 7 percent in the next fiscal year.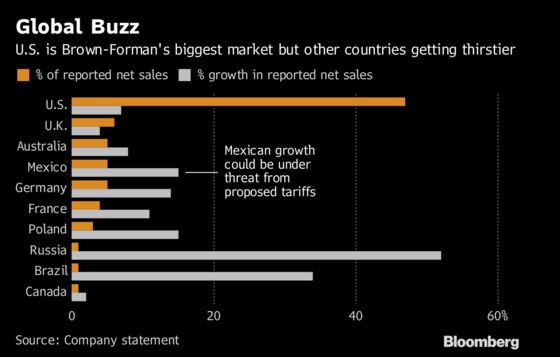 Only about 5 percent of the company's total sales are in Mexico currently, but that's been growing rapidly, with the country logging a 15 percent bump in reported net sales last quarter. By comparison, demand in Brown-Forman's much larger home market grew just 7 percent.
Of course, Tennessee whiskey isn't the company's only popular product in Mexico, with its tequila brands like Herradura also driving growth there.
Brown-Forman's B shares fell as much as 7 percent -- the most intraday in a year -- to $51.94 on Wednesday.
The company is seeking to blunt the impact of tariffs by building up inventories in markets outside of the U.S. -- a strategy begun after European officials warned of retaliation earlier this year.
"While it's premature to comment on the potential impact on our business, we are on top of the situation and have undertaken measures over the last few months to mitigate risk, such as increasing our inventory levels in non-U.S. markets where we own our own distribution," Chief Financial Officer Jane Morreau said in a call with analysts Wednesday.
Brown-Forman has moved more products to European nations such as France, Spain, Germany and Poland, where it owns its distribution network, spokesman Phil Lynch said. The company hasn't yet started to build up inventory in other countries such as Mexico, he said.