Fortive Will Buy J&J's Sterilization Unit for $2.7 Billion
(Bloomberg) -- Fortive Corp. will buy Johnson & Johnson's medical sterilization unit for $2.7 billion, adding a range of new products to the company that was spun off from medical and industrial parts giant Danaher Corp. in 2016.
J&J's Advanced Sterilization Products business had sales of about $775 million last year, Fortive said in a statement Wednesday announcing the transaction. For J&J, it's yet another move to streamline its broad portfolio of businesses as part of a review that has included over-the-counter drugs, diabetes care and some medical devices.
Based in Everett, Washington, Fortive makes instruments and other technologies, such as GPS tracking products, for industrial customers. Backed by the billionaire brothers Steven and Mitchell Rales, the spinoff was meant to separate the parent company's science, technology and medical businesses while Fortive focused on industrial businesses.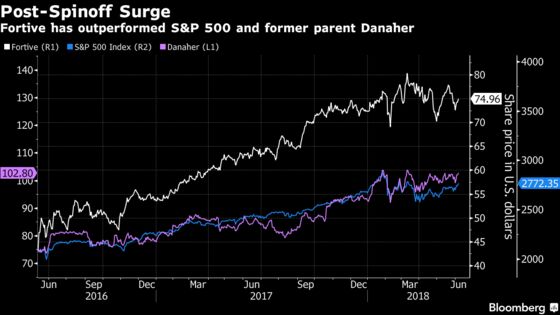 "We expect to acquire a global leader in medical sterilization and disinfection, with a large installed base and very strong brands," James Lico, Fortive's chief executive officer, said in the statement.
The deal is Fortive's biggest so far as a standalone company, according to data compiled by Bloomberg. Two deals last year, Industrial Scientific and Laudauer, cost about $1.4 billion combined, according to Bloomberg Intelligence estimates at the time.
Fortive shares were up less than 1 percent in late trading. J&J was little changed.
Fortive said in the statement it expected the deal to close in early 2019.