Devon Shares Jump as $3.13 Billion EnLink Sale Boosts Buyback
(Bloomberg) -- Devon Energy Corp. climbed the most in a month in New York trading after announcing a sale of its pipeline and processing unit that will fund $3 billion in additional share buybacks.
Shares of the Oklahoma-based oil and gas producer rose 6.8 percent to $42 at 9:45 a.m. on Wednesday, after earlier climbing as much as 8 percent. That followed the announcement that Devon will sell its stake in EnLink Midstream Partners LP to an affiliate of Global Infrastructure Partners for $3.13 billion.
The sale, combined with other deals, pushes Devon past a $5 billion divestment target announced by Chief Executive Officer Dave Hager earlier this year. The actions will help Devon focus on more lucrative shale plays while meeting shareholder demands on returns, he said. Devon now plans to buy back $4 billion of shares by the end of 2019, according to its statement Wednesday. That's quadruple its previous target.
"We love this deal as it simplifies Devon's structure while raising a material amount of cash to buy back stock at a deep discount," analysts at Houston-based Tudor Pickering Holt & Co. said in a note to clients Wednesday.
Devon is still seeking to sell at least $1 billion in additional assets, the bank said, as it focuses its efforts on the Delaware portion of the Permian shale basin in West Texas and New Mexico and the Stack shale play in Oklahoma. Remaining divestment targets include holdings in the Eagle Ford shale in South Texas, the Powder River Basin in Wyoming and "non-core" properties in the Permian, Tudor Pickering said in its note.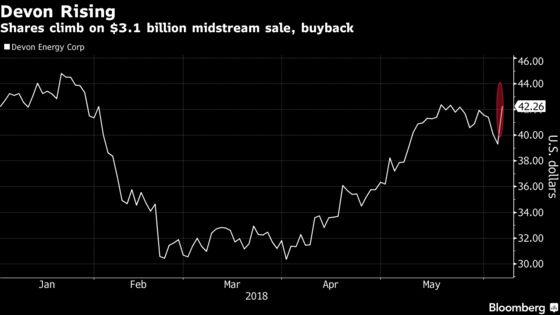 "The sale of our EnLink interests represents a significant step forward in achieving our 2020 Vision to further simplify our asset portfolio," Hager said in the company statement Wednesday. In March, Devon said it would raise its dividend by 33 percent, starting in the second quarter, and announced a $553 million sale of drilling rights in the Barnett shale.
The deal will also reduce the oil and gas producer's consolidated debt by 40 percent, the company said.
As a multi-year crude-price downturn comes to an end, oil and gas producers are under pressure to boost returns to investors, either by raising dividends or buying back shares. Hager pledged to "return proceeds from this transaction to our shareholders" through the repurchase program, which represents about 20 percent of its outstanding shares.
The transaction is expected to close in July, Devon said. Goldman Sachs Group Inc., JPMorgan Chase & Co. and Vinson & Elkins LLP advised the company on various aspects of the deal.
The EnLink system spreads across Texas, Oklahoma, Louisiana and Appalachian natural-gas fields in Ohio and West Virginia. it includes 20 gas processing plants, 11,000 miles of pipeline and other assets, according to the company's website.