Deutsche Bank Says Expect Another Quarter of Falling Revenue
(Bloomberg) -- Deutsche Bank AG will probably report another quarter of declining revenue for the three months through June as it scales back investment-banking operations and cuts thousands of jobs.
The lender will probably do "a little worse" than peers who have indicated they expect a flat top line, "given the quarter that we've had and the transition that we've been through," Chief Financial Officer James von Moltke said in a presentation late Wednesday.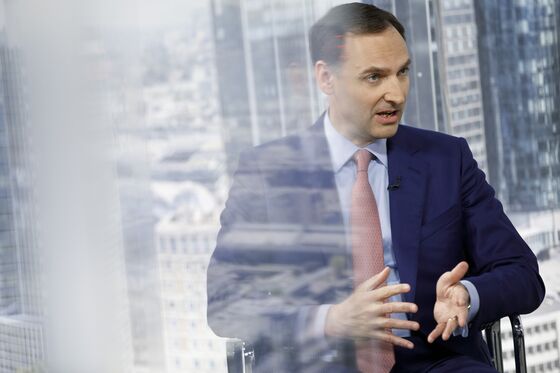 The Frankfurt-based company, led since early April by Christian Sewing after the chaotic ouster of his predecessor John Cryan, is accelerating a push to focus more on European clients and retreat from Wall Street businesses where it isn't competitive. He has announced a plan to shed at least 7,000 jobs.
But after multiple turnaround plans over the past years that failed to deliver the desired results, the bank is in a "vicious circle" of declining revenue, "sticky" expenses, a lowered credit rating and rising funding costs, von Moltke said. Shares of the lender hit a record low last week and S&P Global Ratings cut it to the third-lowest investment grade.
"As we address these issues, we stand to benefit from a virtuous circle," he said. "The frustration for us all has been that we have not been able to establish momentum to allow this virtuous circle to take root. This is why speculation around our name and the adverse news flow has been especially damaging as it further hurts confidence."
A decline in the second quarter would be the sixth consecutive quarterly decline in revenue. Deutsche Bank has also said that it expects "essentially flat" revenue for the full year.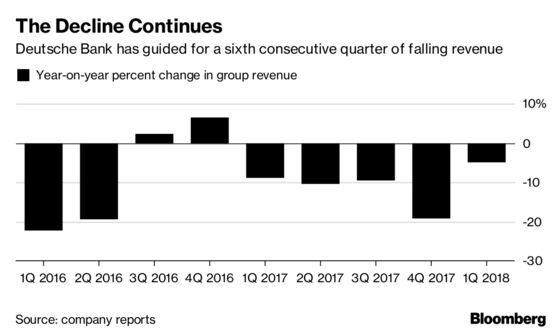 The second-quarter forecast was unlikely to take many investors by surprise. The bank said in April that all the major businesses in its corporate and investment bank would see declines or little change in revenue this year amid the cuts. And analysts at Goldman Sachs Group Inc. and MainFirst Bank AG had estimated that second-quarter revenue would drop from a year earlier.
Deutsche Bank was up 1.2 percent as of 9:04 a.m. in Frankfurt on Thursday, reducing its slide this year to 39 percent. The stock's performance in 2018 is the worst among large European banks.
Also on Wednesday, Sewing sought to soothe concerns that the newest round of cuts to the investment banking unit may go too deep, saying the business will always contribute at least half the lender's revenue. Yet a big chunk of the job cuts will come at the securities unit. Several top investment bankers have left the firm in recent weeks.
About 4,000 of the job cuts are scheduled to be completed this year, pushing the total number of employees below 93,000 from over 97,000 at the end of March, von Moltke said. About a quarter of those cuts have already been completed.
Deutsche Bank has vowed to cut adjusted costs, which exclude restructuring and legal costs and impairments, to 23 billion euros ($27.1 billion) this year from 23.9 billion euros last year. That target "does not rely on material reductions in bonus and retention," von Moltke said, promising that the bank will "continue to pay competitively where it is warranted by performance."
Asset sales and infrastructure jobs will contribute the biggest chunk to the planned workforce reduction this year, according to the presentation. Deutsche Bank has signed agreements to sell its retail operations in Poland and Portugal, and the deals are expected to close later this year and next year, respectively.
Von Moltke previously suggested that most of the job cuts will take place outside Germany.
The bank should be able to reach its goal to raise profitability, although that will require "some amount of tailwind," von Moltke said. About a third or more of the increase would be as a result of gains in revenue from expected higher interest rates, he said, adding that Deutsche Bank's assumptions for future interest rates were broadly the same as the market's.