Deutsche Bank CEO Says Investment Bank Will Stay 'Core DNA'
(Bloomberg) -- Deutsche Bank AG Chief Executive Officer Christian Sewing said he's not planning an all-out retreat from investment banking as Germany's largest lender cuts back its global ambitions.
"The corporate and investment bank will always be the core DNA of Deutsche Bank and will always have at least half of the revenues," Sewing said at an appearance with German Finance Minister Olaf Scholz in Berlin on Wednesday. The bank's planned restructuring, which began almost immediately after his appointment in April, "is not a reinvention of Deutsche Bank," he said.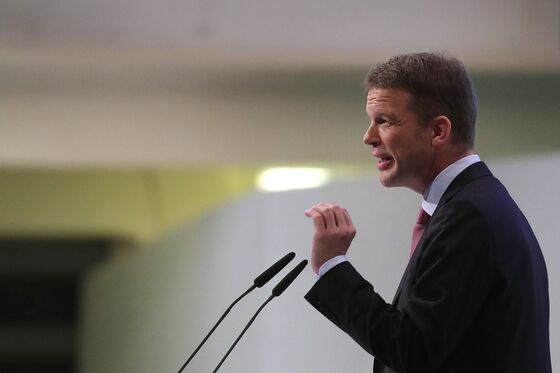 Sewing is seeking to strike a balance between scaling back where the investment bank is struggling while retaining key performers and reassuring clients of its commitment to regions such as Asia and the U.S. The securities unit accounted for 54 percent of group revenue last year -- down two percentage points from 2016 -- and will be further reduced to 50 percent by the end 2021.
Sewing announced a restructuring of the corporate and investment bank less than two months into his new job and has since unveiled significant reductions in its equities and corporate finance units, vowing to cut the number of the bank's employees to significantly below 90,000 from the current level of about 97,000. Most of those cuts will be completed this year, Sewing said, and several top investment bankers have left the firm in recent weeks.
The CEO has also vowed to cut the revenue share of the more volatile parts of the investment bank, namely trading, advisory and origination, down to 33 percent over the next three years. They accounted for 39 percent last year.
"We want to remain and we will remain an international bank, proud of its German roots but equally proud of our expertise in capital markets and our ability to serve clients wherever they are around the world," Sewing said at the event on Wednesday.
Deutsche Bank rose 1.5 percent at 2:04 p.m. in Frankfurt. The stock fell to a record low last week and remains down about 16 percent since Sewing took over John Cryan, who was fired by the supervisory board under Chairman Paul Achleitner for his perceived failure to make good quickly enough on a promise to cut costs and restore profitability and growth.
Among the most recent wave of investment bankers to leave the lender are Alasdair Warren, who helped run the firm's investment bank in Europe, as well as Scott Sartorius and Christopher Blum, the two heads of its U.S. leveraged finance business. Faisal Rahman, co-head of corporate and investment banking for Central and Eastern Europe, Middle East and Africa, departed after almost 18 years, according to people familiar with the matter.