Athenahealth CEO Bush Steps Down, Clearing Way for a Sale
(Bloomberg) -- Athenahealth Inc. Chief Executive Officer Jonathan Bush is stepping down after a series of allegations about misconduct involving women, clearing the way for a potential sale of the $6.3 billion health-technology company he co-founded more than two decades ago.
Bush, 49, a nephew of former President George H.W. Bush, had faced challenges on two fronts.
Elliott Management Corp., an activist hedge fund, early last month proposed buying the company for $160 a share, saying it had been mismanaged and would be better off under private ownership.
Then, last week it was reported by Bloomberg and others that Bush had faced complaints of inappropriate behavior with female employees, had physically assaulted his now ex-wife more than a decade ago and had made comments at a 2017 industry event about wanting to "jump down on'' one of his female employees "and do inappropriate things."
The company said in a statement Wednesday that it plans to explore a sale or merger, and will start a search for a new CEO. Bush's departure is effective immediately.
In the statement, Bush said it's "easy for me to see that the very things that made me useful to the company and cause in these past 21 years are now exactly the things that are in the way."
Elliott said it welcomed the news that the company would consider a sale, though Athenahealth said in the statement that it could also opt to stay independent.
"We have long believed that Athenahealth is a great company, and we look forward to participating as a bidder in the company's strategic exploration process," the investment firm said.
Elliott's May 7 proposal would value Athenahealth at $6.46 billion. Other large investors have also supported the company exploring a sale.
Bush stepping down increases the probability that Athenahealth will be bought, said David Larsen, an analyst at Leerink Partners, in a note to clients Wednesday. "The board will be more focused on maximizing shareholder return," Larsen said
Shares of the company were up 3.7 percent to $156.74 at 11:22 a.m. in New York.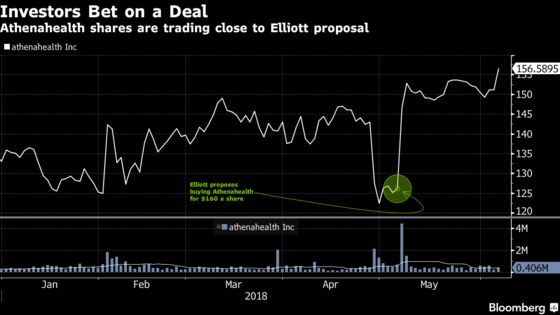 Sean Wieland, an analyst with Piper Jaffray, said he believed Athenahealth is among the best assets in the sector. He said the list of potential strategic buyers includes software companies such as Microsoft Corp., Oracle Corp. and Salesforce.com Inc.
"Financial buyers are also keen on the company's recurring revenue and strong ability to drive incremental margins," Wieland said in a note to clients Wednesday. "There will be no shortage of bidders." He also raised his price target on the company to $179 a share from $155.
Bush's departure marks an ignominious end to his career at Athenahealth, which created a software platform that serves more than 100,000 medical providers. Along with his membership in the politically prominent family, Bush was one of the health-care technology industry's most colorful characters, drawing both praise and criticism for his management style.
Athenahealth declined to make Bush available for an interview. In a regulatory filing, the company said it would provide details of Bush's separation agreement later.
The allegations of Bush's past behavior included assault and harassment.
A 2017 video clip seen by Bloomberg News of Bush at a health-care industry event showed the CEO dressed up as a race car driver, at times reading from a cue card, pretending to be the title character from the 2006 comedy "Talladega Nights: The Ballad of Ricky Bobby."
Midway through the skit, he said he wanted to "jump down on'' one of his female employees "and do inappropriate things." The video shows him briefly pausing. "Uh, but obviously that's totally inappropriate and would never happen or be said on a microphone." The exact context of the remarks wasn't clear.
Bush has also faced at least two gender discrimination complaints filed with the Massachusetts Commission Against Discrimination, a state agency.
Last week, Bush also apologized for punching his former wife in the sternum and giving her a black eye more than a decade ago. The incident, which was first reported by the U.K.'s Daily Mail, was detailed in 2006 court documents from a custody battle.
Athenahealth went public in September 2007, with shares surging 97 percent on their first day of trading. Investors saw promise in the company's potential to bring useful software to over-burdened doctor's offices. Bush went on to write "Where Does It Hurt?: An Entrepreneurs Guide to Fixing Health Care," in 2014.
In interviews, multiple current and former employees at Athenahealth, all on the condition of anonymity, had varying opinions of Bush, with some calling him fun to be around, while others saying his actions weren't always appropriate. When Fortune profiled Bush in 2014, he was characterized as a "hyperactive, no-filter goofball."
Jeffrey Immelt, who serves as chairman of the company's board of directors and was previously CEO and chairman of General Electric Co., thanked Bush for guiding the company and "driving disruptive, positive change across the health-care industry" in the statement. Immelt will assume the position of executive chairman.
Marc Levine, chief financial officer at Athenahealth, will take on more day-to-day operational responsibilities and oversight, while Amy Abernethy, a board member and chief medical officer at Flatiron Health, will advise "the executive leadership team on data strategy within her role as a director."