Where Gangs Pick the Politicians, a Murder in Rio Ignites a People's Revolt
(Bloomberg) -- At a long table under a broken clock, Renata Souza struggles to summon her voice. The hall is jam-packed and all eyes are on her.
When Souza was last here, in 2016, to help Marielle Franco run for the Rio de Janeiro city council, the clock stood at the same time, yet so much has transpired. Marielle, whose unexpected victory and fearless — even incautious — attacks on the corrupt powers running slums like hers, was dead. Not just dead; a 38-year-old black, bisexual mother, Marielle was snuffed out in a drive-by assassination in March, triggering outrage across the globe and the stirrings of a political wave here.
Souza addresses two women who also plan to take up Marielle's banner and run for office for the first time: "We're going to dry our tears and go to the battlefield, right Monica? Dani?"
The question is whether these followers of Marielle can harness the outrage in general elections this October that some hope will be a watershed — or whether the powers that be will keep them at bay. Just as her murder has taken on symbolism far beyond her favela, these candidacies will be a barometer for whether massive corruption revelations spur Brazilians to choose non-establishment figures.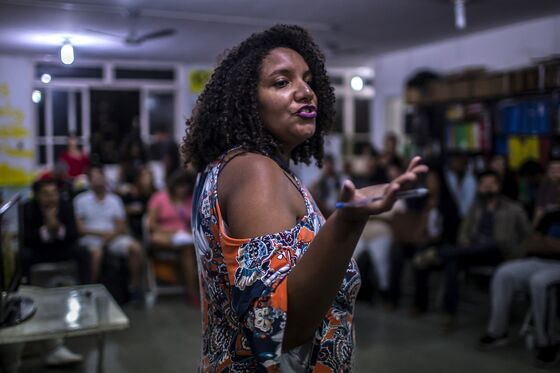 The political class, it must be said, doesn't seem worried: of 55 federal deputies facing accusations as part of the massive Carwash corruption probe, at least 50 will be running, according to a survey by the Estado de S.Paulo newspaper.
Rio de Janeiro, long renowned for its sexy beach culture, has turned into a poster child of malfeasance. Petrobras, the scandal-ridden oil company, has its headquarters here while graft-filled construction plagued the recent World Cup and Olympics. The prior governor was indicted 23 times and the former speaker of the House and former state assembly president are also jailed. Between corruption and mismanagement, the city couldn't pay its cops. Crime and violence spiked, and the federal government deployed the army through year's end. Meanwhile, Rio state's economy — bigger than Uruguay, Bolivia and Paraguay's combined — has 15 percent unemployment and is struggling to emerge from recession.
It's a vacuum filled by three competing, but increasingly collaborating, powers that represent tall barriers for new candidates: militias, drug traffickers and evangelical churches. The militias, originally made up of former law enforcement personnel, were supposed to stop the traffickers. But many now collaborate with traffickers who are themselves increasingly converted in prison by evangelical churches and then return to a life of crime.
Rules don't level the playing field. One candidate, speaking on condition of anonymity, admitted he started his last campaign 16 months before permitted by law, and spent more than 20 times what he declared. Among his off-books expenses: transporting a Santa Claus via helicopter to the top of a favela run by drug traffickers for a kids' party. Residents of militia-controlled areas say they fear wearing stickers supporting candidates their supposed protectors haven't endorsed. Evangelical churches often instruct their faithful how to cast their ballots, said Carlos Fonseca Passos, president of Rio's electoral authority.
Another issue: Running for office can prove fatal. In 2016, more than 20 candidates in Rio were killed. Also, in an attempt to end corporate graft in politics, donations by companies have been banned for the upcoming election. That may, however, create more opportunities for churches and organized crime.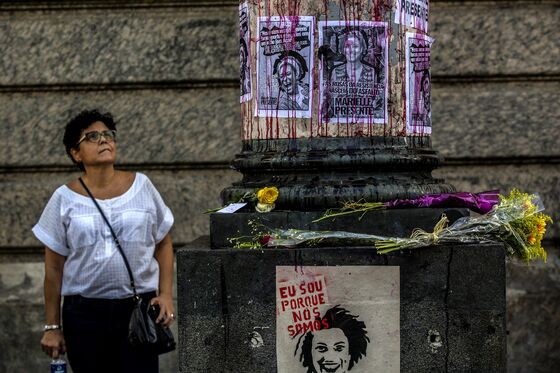 The women known as the "seeds'' of Marielle Franco are hoping to overcome all of that. About 10 from Rio intend to run for state assembly or federal congress. Thais Ferreira, a 29-year-old mother of two, has been drawn to politics since her childhood but never imagined it was a real possibility, she said in an interview — to which she arrived late because of a shootout near her train station.
Ferreira, who owns a food truck, was among the more than 4,000 people who answered the first call from Renova — a non-partisan program to train aspiring politicians. "Go for it; we need more women disputing this space,'' Ferreira recalled Marielle telling her one of the few times they met. Soon after, Ferreira was selected, one of three black women, of the 134 chosen.
Marielle's story is serving as inspiration. She grew up in Maré, a favela along the bayside highway leading out of the international airport. Maré was walled off from the highway ahead of the World Cup, shielding tourists from the unsightly neighborhood, and occupied by the army on the eve of the tournament. Maré was under the thumb of traffickers, police and the army, as Marielle found in researching her master's dissertation there. She went to work for a state legislator who took on the militias and, as a result, requires personal security guards to this day.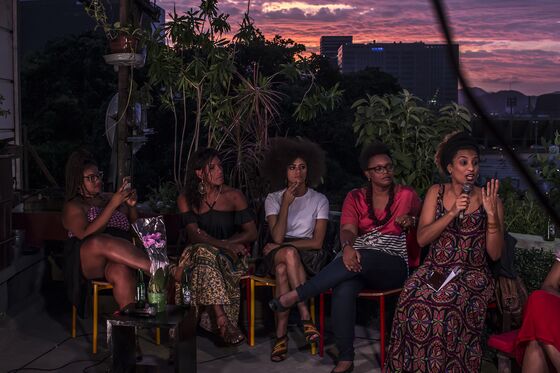 When Marielle ran for office she received the fifth most votes but precious few from favelas — even in Maré — because those votes are controlled by traffickers, according to Souza. Still, Marielle went to work for the favela, particularly against police brutality. The day before her murder, she took to Twitter to condemn the killing of a 23-year-old on a motorcycle after he dropped his girlfriend home from church. "How many more need to die for this war to end?" Marielle asked.
At least one. And almost three months after her murder, the police haven't named a suspect. Militia members are the main line of investigation, according to Alexandre Herdy, chief of the state's organized crime division. Whoever it was bet Marielle's assassination would be seen as one more gunned-down politician in the growing tally, according to Jorge Furquim, a public prosecutor. Robert Muggah, research director of Rio-based security think tank Instituto Igarapé, said her killing was intended as a warning to anyone trying to improve conditions in the favelas.
"The killing of Marielle was a shot across the bow, in every sense, for people working in these areas,'' Muggah said.
Marielle quickly became a martyr. Demonstrations across Brazil drew people who'd known nothing about her, the UN denounced her murder and Pope Francis offered condolences. At a plaza in front of Rio's municipal chamber, the voices of Ferreira and thousands more made "Marielle is here!'' a rallying call.
"The other group feels threatened, because it will lose privileges, lose support and money, when we really take a step forward,'' Ferreira said. "The machine doesn't want to lose.''
The machine has more than fear at its disposal. The militias charge businesses for security and sell to residents cut-rate pirate satellite TV, internet, transport and electricity. That makes residents reluctant to vote against militias' picks.
"People operate on the logic that if the militia doesn't provide security, no one will,'' said Julia, 22, a student who lives 90 minutes from Rio's center and was afraid to give her last name. "Everybody knows that they're thieves, but it's better having a thief taking care of us than no one.''
The most notorious militia called itself the Justice League until its leader, known as Batman, was imprisoned; its group has at least 400 members and rakes in 36 million reais ($10 million) annually, according to Herdy. Militia members strike deals with candidates for political cover, then tell residents whom to vote for, either making veiled threats or paying out as little as 50 reais per vote, according to Prosecutor Furquim.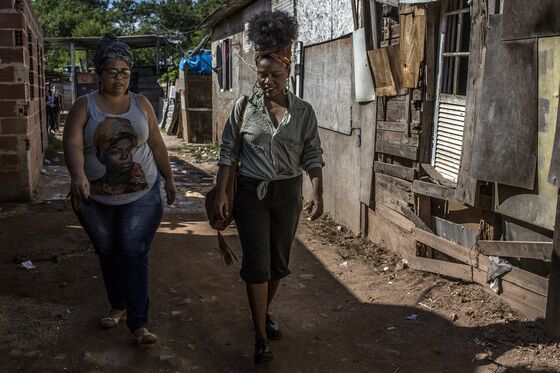 The traffickers also keep challengers out. Campaigning in trafficker-controlled areas means obtaining permission to get past their roadblocks and lookouts.
When a candidate wished to speak to residents in the Acari favela in 2014, Walber Generoso, a former vice-president of its residents' association, acted as go-between, he said a short distance from where young men ride motorcycles with semi-automatic rifles hanging over their backs. The drug boss granted the candidate entry as he and his gang shot out the tires and windows of four cars parked improperly in front of an evangelical church that counted the boss' aunts as parishioners.
Generoso's friends have told him they want to vote for rookie politicians this year, as was the case with Marielle, but he's also heard candidates hoping to enter the favela will have to pay a fee to traffickers, via the residents' association. A first-time candidate in the last election who declined to be named made monthly payments to leaders of several favelas who each guaranteed they could deliver a certain number of votes. He believed they were intermediaries for traffickers, he said in his office overlooking a sprawling favela, whose paralyzed cable-car stands as a monument to the state's corruption and fiscal trauma. Residents asked him to buy everything from gas tanks to wheelchairs, to throw parties and barbecues, and warned failure to do so could lose him the community's vote.
He once went to a bar to meet an evangelical pastor from another favela. Pastors who stump from the pulpit or invite candidates to speak are instrumental in determining how their churchgoers vote. The daughter of the jailed former House speaker from Rio is reportedly planning her bid for Congress, with support from the same evangelical church that backed her father; Brazil's prior prosecutor-general charged him with laundering bribes through the church.
The pastor told the candidate he could guarantee the neighborhood's vote, for a price because he was in league with the traffickers. "I'll sell you the favela for 100,000 reais,'' the candidate recalls the pastor saying. He declined.
Despite spending 1.5 million reais, the candidate's bid fell short; it showed him spending big in the favelas doesn't guarantee victory without the connections and electioneering know-how of establishment candidates, who often come from powerful families. The large majority of voters "fiercely reject traditional politics'' and not having that background could be a plus, but it won't be decisive for winning votes, according to Mauro Paulino, chief executive officer of pollster Datafolha.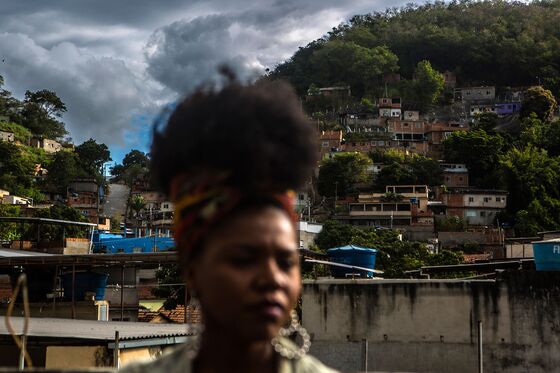 The women following Marielle's footsteps face not only militias, traffickers and pastors; they lack resources and connections. They plan to exercise caution to avoid confrontations and lean heavily on social media, but they'll need to reach residents directly.
"Marielle's murder was a message for militant black women from the favela to stay silent, and I see a lot of courage in those who reject that message,'' said Mario Brum, a history professor at Rio's state university UERJ. "It's going to be a test for our tattered democracy whether these people manage to campaign and get a good amount of votes. It would show there's still some hope.''