UBS's Ermotti Advises Clients to Stay in Market Amid Turmoil
(Bloomberg) -- UBS Group AG Chief Executive Officer Sergio Ermotti said investors shouldn't take fright after political turmoil in Italy sent tremors through global financial markets in recent weeks.
"We are recommending clients to still be in the market," Ermotti said in an interview with Bloomberg Television in Zurich on Tuesday. "The underlying profitability, the growth that we see are still supportive of equities in general terms. But we are also very careful in signaling that cyclicality may come in, the geopolitical risk may be there."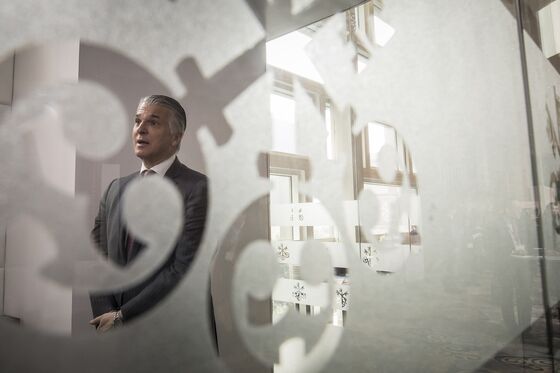 The long-simmering political crisis in Italy threw global markets into turmoil before populist parties agreed to form a government last week, prompting diverging views on the severity of the situation in Europe. Billionaire George Soros warned that the European Union is at risk of breaking up amid Italy's challenges, while Morgan Stanley Chief Executive Officer James Gorman downplayed suggestions that another major crisis may be in store.
"I would say that the truth is a little bit in the middle," Ermotti said. "You have to measure the intensity of the threat and I would also describe the situation as being serious enough to be addressed and tackled."
He added that Europe needs to work on deeper reforms and will struggle to be "credible" in its current form. The spike in volatility after the political turmoil last week has prompted investor concern but not panic, according to Ermotti.
"Investors are very cautious still. They are out there observing the situation. They are not panicking but they are starting to get concerned," Ermotti said. "Hedging is an absolute must in this environment."
As for his own bank, Ermotti said: "This is clearly not an environment where you put on more risks."
UBS itself has about 1.1 billion francs ($1.1 billion) of net exposure to Italian corporate, bank and sovereign debt as well as counter-party risk from financing trades and trading inventory at the end of the year, according to the bank's annual report. Ermotti said he's comfortable there's no substantial short-term risk to Europe or any single country in the region.
Still, with headwinds in Europe holding back bank earnings while those of larger U.S. banks forge ahead, speculation about mega-mergers of European banks is gaining speed. UniCredit SpA is considering a merger with France's Societe Generale SA, a move that would combine two of Europe's largest financial institutions, the Financial Times reported on Sunday. Ermotti said consolidation could be part of the solution "to reshape the banking industry in Europe" and resolve lingering overcapacity.
Whereas regulation had previously hindered cross-border banking deals in Europe, that may be changing, Ermotti said.
"In general, regulators look like they are already moving in this direction, they do understand that the issue is not too big to fail per se, but maybe too small to survive," he said.
But he also warned that mergers need to have a clear business logic.
"Consolidation that is just done in terms of creating size without focus and added value to clients and shareholders, they create even more problems than solutions," Ermotti said. "What we need to see in the industry is focused consolidation where you get scale and diversification."
UBS is seeking to buy wealth-management assets more aggressively after gaining greater clarity from global regulators on how much capital the bank will need over coming years, people familiar with the matter said in March. UBS in January bought Nordea Bank AB's private-banking business in Luxembourg after scooping up the firm that was Brazil's biggest independent multifamily office, Consenso Investimentos Ltda.