StanChart Is Said to Plot Asia Hubs in Singapore, Hong Kong
(Bloomberg) -- Standard Chartered Plc plans to create two new hubs for its Asian operations in Singapore and Hong Kong to simplify the emerging market lender's extensive network and reduce costs, people familiar with the plan said.
The bank has drawn up plans to consolidate as many as 10 Southeast and South Asian countries -- potentially including Indonesia and India -- under a new Singapore subsidiary as soon as next year, said the people, who asked not to be identified as the details aren't finalized. It's intended to allow the bank to manage its assets and capital more efficiently and could potentially reduce the size of the emergency buffers regulators require the firm to maintain, one person said.
Standard Chartered is also consolidating some of its non-China North Asian countries such as South Korea into a separate Hong Kong subsidiary, said the people. The plans aren't final and could change, the people said.
"The group is strongly capitalized and is highly liquid, and as you would expect, we continually look at ways of optimizing the group's capital and liquidity structures," Standard Chartered said in a statement on Tuesday.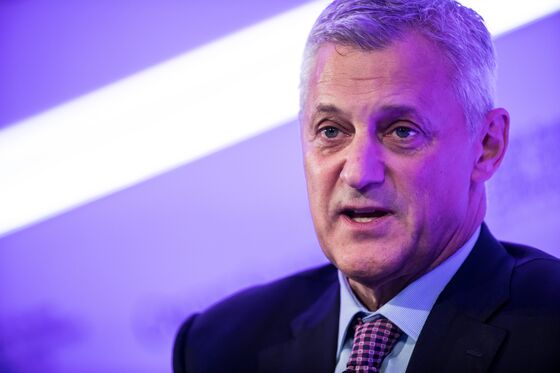 Chief Executive Officer Bill Winters is still seeking to convince investors he can restore earnings growth and generate an acceptable level of profitability while cutting costs. Winters has spent much of his three-year tenure cleaning up the balance sheet and culture of the firm after a poorly managed expansion by his predecessors saddled the bank with bad loans. The bank suffers from high compliance and management costs because it operates in about 60 markets.
The restructure could pave the way for a partial sale or listing of the new units in the future, said the people. However, this is not on the immediate horizon, the people said.
Standard Chartered will be able to consolidate its liquidity and capital by uniting several countries in a move executives hope will reduce its regulatory requirements, one of the people said. At the moment, the bank's balance sheet is fragmented and that is constraining lending and growth, the people said.
Fitch Ratings Ltd. analyst Sabine Bauer said any significant changes to the corporate structure would probably be driven by regulatory considerations and not just cost savings. But she doubts that such a move would free up capital because the bank may have to allocate more to the units in the region.
"The bank's strategic focus on Asia could justify changes to the current setup," said Bauer, a Hong Kong-based senior director at the ratings company. "However, I'm a bit skeptical if incorporating more operations locally would generate capital benefits for the group."
The plan is an extension of an announcement in February that it would absorb its retail, commercial and investment bank in Singapore into one unit, one of the people said.
Singapore's state-owned investment fund Temasek Holdings Pte. is among Standard Chartered's investors, with a stake of more than 15 percent, according to the bank's annual report. The London-based lender already has secondary listings in Hong Kong, where its history dates back to 1859, and India.
Standard Chartered is overwhelmingly reliant on Asia for earnings, generating two thirds of its revenue and most of its profit last year. Greater China and North Asia accounted for about 40 percent of the lender's 2017 revenue and 82 percent of its profit, while the Southeast and South Asia segment contributed almost 27 percent of revenue, yet only 14 percent of profit, largely because of high losses on bad loans.