South African Activity Stagnates While Its African Peers Cheer
(Bloomberg) -- South Africa's economy contracted in the first quarter and now its business-activity levels are falling behind peers in the region.
Purchasing Managers Indexes published on Tuesday showed faster expansion in companies in Nigeria, Ghana, Uganda and Zambia in May. In South Africa, however, the index fell to the neutral mark of 50, making it the only country where the PMI didn't improve.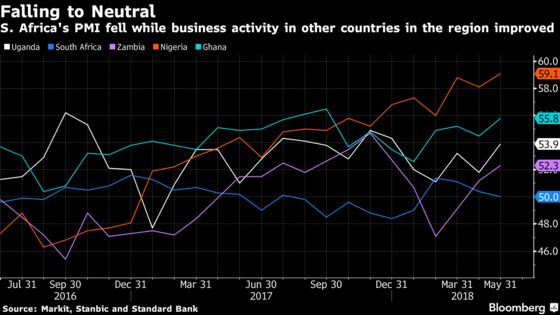 Africa's most-industrialized economy shrank by an annualized 2.2 percent in the first quarter, the most in nine years, compared with the median economist estimate of 0.5 percent. Together with Nigeria, South Africa's gross domestic product make up about half of the region's economy.
But Standard Bank Ltd. economist Thanda Sithole said South Africa's economy is still on track to expand 1.8 percent this year and 2.2 percent in 2019.
"In our view the PMI will, during the remainder of 2018, largely show signs of improving domestic conditions," she said in a note. "The ongoing debate on land expropriation, elevated international oil prices and a volatile rand, remain key risks to our PMI outlook."