S. Africa Economy Shrank Most in Nine Years as Zuma Era Crumbled
(Bloomberg) -- South Africa's economy shrank the most in nearly a decade as Jacob Zuma handed the reins of power to Cyril Ramaphosa, racking up the worst performance of the former president's tenure.
Output slumped at mines, factories and farms in the first quarter, with overall gross domestic product dropped by an annualized 2.2 percent compared with the prior three months, Statistics South Africa said on Tuesday in the capital, Pretoria. That's the biggest decline in nine years, much larger than economists forecast.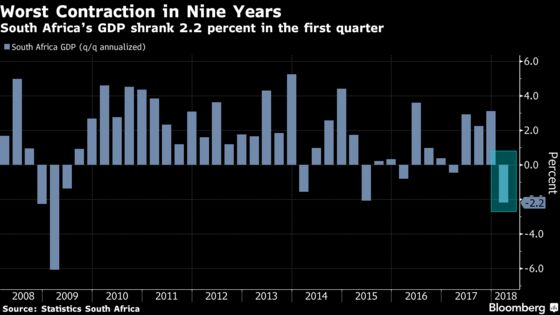 Africa's most-industrialized economy hasn't grown at more than 2 percent a year since 2013 and is struggling to gain momentum despite political changes that bolstered investor confidence. Ramaphosa's rise to power since December initially boosted sentiment and the rand following Zuma's scandal-ridden tenure of almost nine years, but confidence indexes have now returned to levels they were at late last year as businesses seek real reforms.
Ramaphosa replaced Zuma as leader of the ruling party in December and as president in the middle of February.
"Ramaphoria has to be followed by concrete policy and concrete change, and I think that many want to see faster change," Thabi Leoka, an independent economist, said by phone. "Currently I think we are still grappling with the demise and destruction and disruption of the past nine years."
When measured against the first quarter of 2017, the economy expanded 0.8 percent.
First-Quarter Contractions
The economy has contracted in each first quarter for four of the past five years, and some economists say that this GDP report should be read with caution.
"The base that these numbers are coming off is really high," Jeffrey Schultz, an economist at BNP Paribas in Johannesburg, said by phone. "This is going to be transitory in nature -- I expect a big bounce in the second-quarter figure."
Mining and manufacturing, which comprise about a fifth of the economy, both declined in the period as prices for commodities such as gold and platinum were stagnant and producers closed operations.
Highlights from the release include the following:
Mining production contracted 9.9 percent from the previous quarter
Manufacturing shrank 6.4 percent
Agriculture declined the most, recording an annualized 24.2 percent contraction
Expenditure on GDP fell an annualized 2.5 percent
The South African Reserve Bank forecasts the economy will expand 1.7 percent this year and 2019 and 2 percent in 2020.
"The tertiary, secondary and primary sectors all performed worse, which means there was a broad-based slowdown across the economy," Gina Schoeman, an economist at Citibank Inc., said by phone from Johannesburg. "This means we have to be concerned because they are probably going to have to revise down GDP forecasts this year."