U.S. Service Industries Expand at Faster Rate Than Forecast
(Bloomberg) -- U.S. service industries expanded in May at a faster pace than forecast on stronger orders and sales, while a gauge of materials prices continued to advance, a survey from the Institute for Supply Management showed Tuesday.
Highlights of ISM Non-Manufacturing (May)
Non-manufacturing index rose to 58.6 (est. 57.6) from 56.8; readings above 50 indicate growth
Measure of business activity climbed to 61.3 from 59.1; gauge of new orders improved to 60.5 from 60
Employment index advanced to 54.1 from April's 53.6
Gauge of prices paid increased to 64.3 from 61.8
The index remains close to the January reading of 59.9, which was the highest since August 2005, signaling solid expansion in sectors that account for about 90 percent of the economy. The figures are consistent with a report last week that showed faster growth at manufacturers.
Like their factory counterparts, more service providers are experiencing rising input costs: A measure of prices for purchased materials and services advanced to the second-highest level since September 2012.
What's more, an index of order backlogs at non-manufacturing businesses jumped to the highest in records to July 1997, according to the Tempe, Arizona-based ISM. Delivery times also lengthened, with the group's gauge matching the strongest reading since November 2005.
"It's a capacity issue as it relates to gearing up for the business demand," Anthony Nieves, chairman of the ISM non-manufacturing survey committee, said on a conference call. A rise in new orders and some other factors including a shortage of truck drivers have contributed, he said.
"All indications are that it's going to stay at this current level," Nieves said. "Do we see any easing up in the issue of constraints? Not at this time. No one is changing the picture at this time for the shortage of workers and the shortage of truck drivers."
Such steady demand is helping keep prices elevated, and company purchasing managers are growing concerned about the fallout from higher tariffs on imported steel and aluminum from Canada, Mexico and the European Union. The Trump administration's plans for tariffs on as much as $150 billion of Chinese goods also risk boosting inflation. Other issues include a lack of labor supply and higher transportation costs, partly a result of the trade-policy uncertainty.
Fourteen non-manufacturing industries reported growth in May, led by wholesale trade, mining and real estate.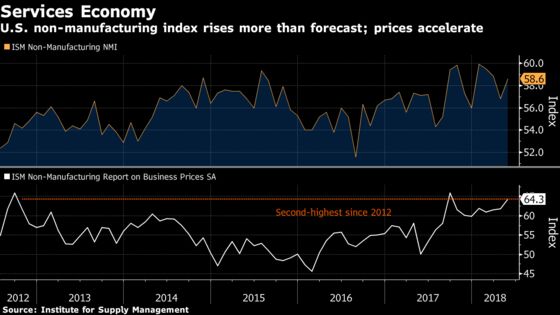 Index of supplier deliveries rose to 58.5 from April's 54.5 reading
Measure of order backlogs surged to 60.5 from 52; inventories gauge edged up to 57.5 from 57
Index of export orders fell to five-month low of 57.5 from 61.5