No Nafta Better Than Bad Nafta for Mexico's AMLO: Top Aide
(Bloomberg) -- No Nafta agreement is better than a bad one for Mexico's presidential front-runner, Andres Manuel Lopez Obrador, who would insist on being part of the trade talks as soon as next month if he's elected, a top economic adviser said.
AMLO, as the candidate is known, would push for Nafta talks to remain trilateral after U.S. President Donald Trump's economic adviser said the White House is seriously considering seeking separate negotiations between Mexico and Canada, Gerardo Esquivel said in an interview on Bloomberg TV.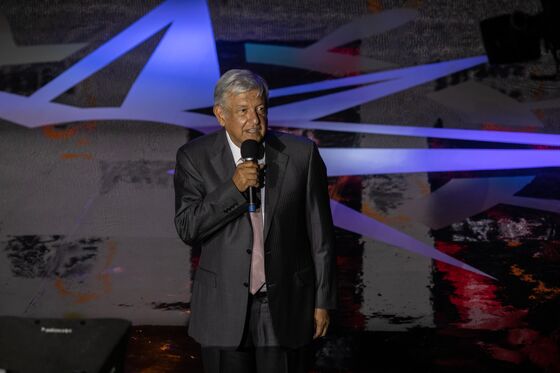 Following second-place finishes in 2006 and 2012, the leftist candidate appears headed for a decisive victory July 1 with Bloomberg's Poll Tracker putting him 26 percentage points in front of his nearest rival. Mexico's peso sank to its weakest level in more than a year Tuesday amid concern a trade pact with the U.S. won't be approved before 2019. While Lopez Obrador has talked tough against Trump and criticized Nafta in the past, he's come out in favor of free trade and the trilateral deal during his campaign.
"Of course" Lopez Obrador would rather no Nafta than a bad deal, Esquivel said when asked if the candidate shared Canada's view on the matter. "We are not really looking for a bilateral agreement with the U.S. or Canada. The trilateral agreement is what we want."
The victor in next month's election won't take office until Dec. 1. During that lengthy interregnum, Lopez Obrador would want members of his team to participate in Nafta talks, which will continue to be led by President Enrique Pena Nieto's administration.
The reason for that participation is "just to make sure that everything that is being negotiated and that will eventually be approved under a Lopez Obrador administration is something that he agrees with in all terms," said Esquivel.
Asked to clarify the mixed messages from Lopez Obrador's campaign on the nation's landmark oil reform, Esquivel said private drilling contracts already won at auction would be respected, unless corruption is found during an auditing process. He said the pace of future auctions would slow, but most likely continue for deep water blocks since Mexico doesn't have the resources or technology to carry those out. "So far, with the contracts we've been reviewing, the agreements are fine for us. I think the state got a fair deal in these auctions, so those might continue."
That contrasts with Lopez Obrador's statements on the campaign trail this year that he would never allow Mexican crude to return to the hands of foreigners, that he'd freeze gasoline prices in real terms, and that he may seek to reform the oil industry in the second half of his administration.
But Esquivel said Lopez Obrador doesn't expect to achieve the two-thirds majority in congress needed to change constitutional reforms on oil and education. Instead he'll propose a bill in his first year to improve labor conditions for teachers. That again contrasts with Lopez Obrador's pledge to undo the education law altogether that mandates performance testing for educators.
AMLO would still insist in July on temporarily halting construction of Mexico City's new $13 billion airport in order to review contracts and decide whether to keep the current project, Esquivel said.
Regarding a Bloomberg News report yesterday that Guillermo Ortiz is being considered for a cabinet position by Lopez Obrador, Esquivel said there's no chance the former finance minister and central bank governor would be appointed to a top cabinet post. However he said that Santiago Levy, a vice president at the Inter-American Development Bank in Washington, could be asked to join the administration, but has yet to be offered a specific post.
Lopez Obrador's transition team would look very similar to the 17 cabinet picks he announced starting in December, Esquivel said, and Carlos Urzua would become the finance minister. Along the same lines, the man who has led the candidate's advisory team during the campaign, Alfonso Romo, will likely head his transition team if he wins election.