Murphy's Spending Has Even Democrats Balking in New Jersey
(Bloomberg) -- New Jersey's switch to a Democratic governor has taxpayers on a dizzying ride.
Eight years of budget cuts under Republican Chris Christie left New Jersey with the worst-funded public pension of any U.S. state, the second-lowest credit rating, lagging economic growth and a crumbling and crowded transit system. Progressive Phil Murphy, elected in November on a pledge to "undo the damage" of his predecessor, in less than five months has approved and proposed spending that would cost the state $1.76 billion by 2020.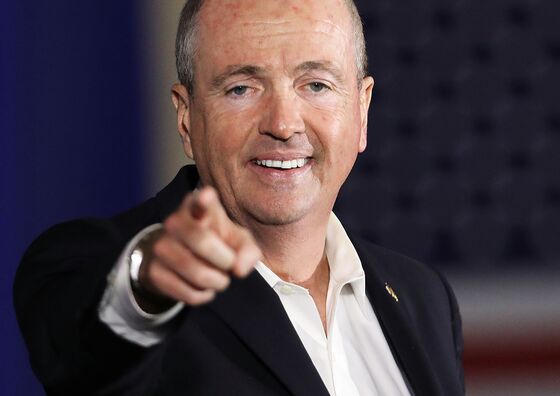 Democrats who control New Jersey's legislature had ached to spend more, only to be thwarted time and again by Christie. But the extent of Murphy's spending has factions warring within his own party. As the governor pushes to give residents "more value for their tax dollars," some lawmakers are resisting his first budget pitch, a record $37.4 billion plan that depends on new or higher taxes on millionaires, retail sales and more in one of the most-levied states.
"The administration talks about a fairer budget," Senate President Steve Sweeney, 58, a Democrat from West Deptford and the highest-ranking state lawmaker, said in an interview. "I want to talk about an affordable budget."
The state must have a budget in place on July 1, the start of the fiscal year, or shut down government. Last week, the administration halted hiring and discretionary spending, and ordered agencies to update their shutdown contingency plans.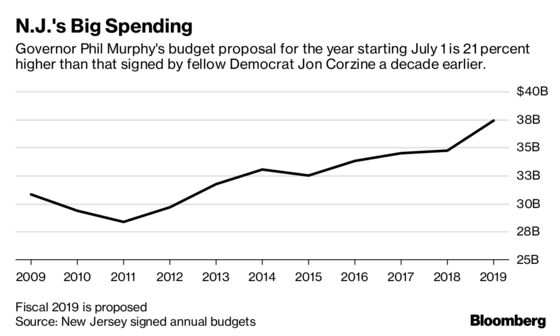 Murphy, 60, a former Goldman Sachs Group Inc. senior partner and U.S. ambassador to Germany, spent $22.5 million of his personal fortune to defeat Kim Guadagno, Christie's lieutenant governor. The product of a working-class Boston-area family who identified with the Kennedy family's Democratic values, Murphy pledged to strengthen the middle class and make New Jersey nationally prominent on worker fairness, gender issues, race, marijuana policy and climate.
Since January he has pitched higher spending on mass transit, restored $7.5 million to women's health care and signed legislation compelling employee paid sick leave and banning pay discrimination. Those are all steps that eluded Democrats under Christie. Murphy has also deployed his attorney general, Gurbir Grewal, to join multi-state legal challenges to President Donald Trump on immigration, the environment and health care, popular issues in a state where Hillary Clinton won 55 percent of the popular vote in the 2016 election.
Whatever goodwill Murphy may have accrued, though, may not be enough to sway lawmakers from either party on his proposal to raise $1.5 billion in revenue from higher taxes on retail sales, corporations and the wealthy, plus new taxes on users of Airbnb Inc., Uber Technologies Inc. and yet-to-be-legalized recreational marijuana.
Without a legislative cheering section, Murphy risks falling short of three major initiatives: a record $3.2 billion pension payment, the first year of state-paid community college tuition and the most pre-school funding in 10 years.
"Raising taxes in general is just a bad message," Assemblywoman Eliana Pintor Marin, a Democrat from Newark and head of her chamber's budget committee, said at a May 21 hearing. At a Senate budget hearing the next day, Treasurer Elizabeth Muoio drew criticism from Republicans when she said New Jersey's structural budget troubles are worsening and revenue growth isn't keeping pace with needs.
"How is it remotely, conceivably possible that it's responsible to propose massive increases in spending?" said Senator Declan O'Scanlon, a Republican from Little Silver. "We get a recession mid-year -- and it's even a third, 20 percent as bad as what we faced in '09 -- we will be bankrupt. We will have no choice but to destroy our pension system by failing to make payments."
Even the Senate budget chairman, Paul Sarlo, a Democrat from Wood-Ridge, wouldn't commit to Murphy's full $1.5 billion plan, telling reporters higher taxes were a last resort.
"This kind of acrimony that exists right now doesn't bode well for the next three years," said Brigid Harrison, a political science and law professor at Montclair State University. "Chris Christie, even when he was at war with Steve Sweeney, was always able to compel the legislature to do some of what he wanted, sometimes with veto power."
New Jersey government has shut down only twice in recent history. Democrat Jon Corzine presided over an eight-day closing in 2006 after an impasse with Democratic lawmakers over a sales-tax increase. Last year, Christie shut it down for three days, then was castigated on social media after he and his family were photographed relaxing on a closed state-run beach.
Murphy on May 23 called budget critics "those same people who allowed the middle class to be ravaged over the past eight years."
"I'm proudly working with legislative leadership -- the Senate president, the speaker, with their teams and our team -- to get back to the state we used to be, which is a state that values the middle class," Murphy said in South Brunswick. "That's investment in education, it's investment in infrastructure, in transit -- the sorts of things we used to do really well."
So far, the middle class is paying for a sizable chunk of that agenda.
A bailout to keep nuclear plants profitable will cost utility customers $300 million a year. Taxpayers are footing a $149 million raise for unionized state workers, plus a three-year pay increase of $32 million for Cabinet members, legislative staff, judges, prosecutors and county officials.
After Murphy signed legislation covering $4.5 million in tuition for college students who lack lawful immigration status, he asked lawmakers to pass another bill, to forgive as much as $8,000 in loans to each college graduate who lives in New Jersey and works in the science, technology, engineering or math fields.
New Jersey leads the nation in high school seniors heading to out-of-state colleges, and in residents moving to lower-cost destinations. It has the nation's highest property taxes, averaging $8,690 in 2017. Decades of underfunded pension payments and missed revenue estimates contributed to the record 11 downgrades by the three major ratings companies during Christie's tenure.
Murphy's spending also holds potential for a downgrade, according to Howard Cure, director of municipal bond research for Evercore Wealth Management.
"The risks are there particularly if you're going to be expanding social-welfare programs on top of not having a viable solution to property taxes and trying to convince people that pensions will be taken care of," said Cure, whose firm has $7.5 billion in assets under management, including New Jersey debt.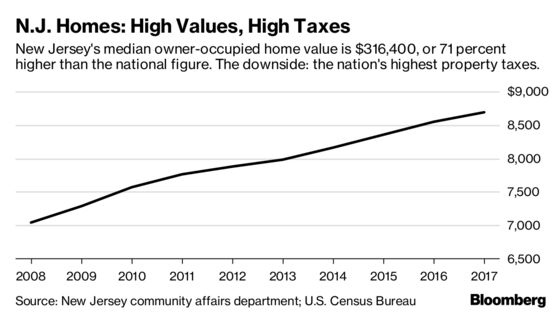 Fifty-four percent of residents say New Jersey is an excellent or good place to live, the lowest share in surveys dating to 1980, according to a Monmouth University poll released on May 29. Respondents' top concern was property taxes, with 45 percent, compared with 16 percent who chose education.
Though Murphy defeated his Republican challenger by 14 percentage points, the election had record-low turnout, a reflection of cynicism among voters who've put property taxes atop their aggravations list for a decade.
"People feel they can't trust anybody on this issue," said Patrick Murray, the poll's director. "They're left with no expectation that things are going to get better, and that's the long-term danger: We're going to see more and more middle-class residents moving out of state."