Thai Microlender Boom That Minted Fortunes Starts to Wane
(Bloomberg) -- Amassing ever-larger profits by providing small loans is becoming more difficult in Thailand.
Shares in microlenders Muangthai Capital Pcl and Srisawad Corp. have slumped this year on concern about the profit outlook and the prospect of tougher regulatory oversight. The phase of exponential growth in earnings may be over, according to Muangthai's founder Chuchat Petaumpai.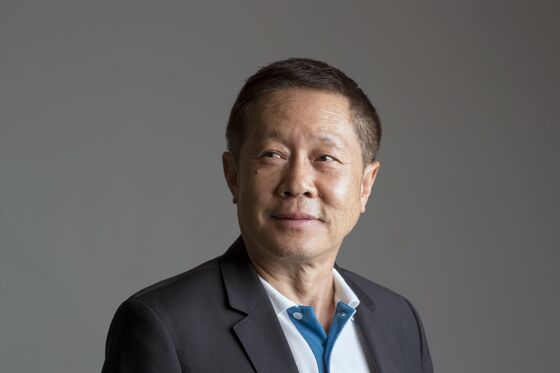 "We're starting from a higher base and there's more competition, so it's that much harder to replicate the substantial earnings expansion of the past few years," Chuchat said in an interview Monday. "We also have to balance aggressive growth against asset quality."
Millions of Thais lacking the credit history required by commercial banks flocked to firms like Muangthai, Srisawad and Group Lease Pcl in recent years, pledging cars, motorcycles or land as collateral for loans. The demand helped to spur a boom in the companies' share prices.
Cracks emerged in 2017, after Group Lease's stock slumped and Thailand's Securities and Exchange Commission filed a complaint against a Group Lease executive. This year, fears of slowing profit growth contributed to a 41 percent drop in Srisawad and a 12 percent decline in Muangthai shares through yesterday.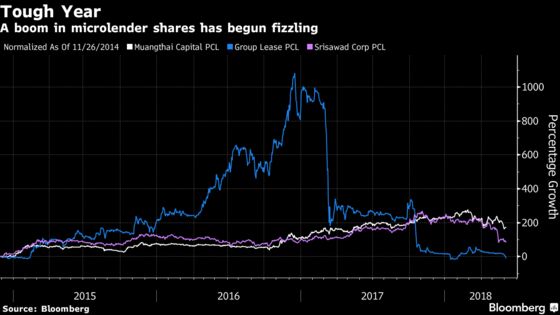 Chuchat expects Muangthai's earnings to rise 35 percent next year, slowing from an estimated 40 percent pace in 2018. Srisawad, Asia's worst performing large consumer finance stock in the past month, is tackling bad debt and opening new branches to bolster its outlook.
"There's lingering concern that new regulations may affect non-bank lenders including Muangthai," said Kasem Prunratanamala, the head of research at CIMB Securities (Thailand) Co. in Bangkok. "The net interest margin may also be hurt by rising competition and higher borrowing costs."
Muangthai's shares climbed 2.2 percent as of 3:47 p.m. in Bangkok, extending a three-day rally to 8.6 percent. The benchmark SET Index advanced 0.4 percent.
Chuchat said clarity in the new rules is likely as the year progresses and that the framework will have a limited impact on earnings, adding Muangthai's shares may eventually return to a more "normal pattern" once such uncertainty is resolved.
He and his family have a fortune of about $1.5 billion based on their Muangthai shareholdings, according to the Bloomberg Billionaires Index. The sisters who help to run Srisawad, as well as their mother, have stakes in it worth roughly $420 million combined, data compiled by Bloomberg shows.