Mexican Peso Falls to Lowest in a Year as Nafta Seen Delayed
(Bloomberg) -- The Mexican peso sank to its weakest in more than a year on concern the U.S. may leave the Nafta agreement and try to negotiate two separate free-trade deals with Mexico and Canada.
The currency slid for a fourth day, dropping 1.6 percent to 20.4031 per dollar as of 3:46 p.m. in New York, the second-sharpest retreat among major peers. The cost of insuring Mexican bonds in the credit-default swaps market for five years surged nine basis points to 146.501, climbing for a ninth day in the longest streak since June 2013. Stocks halted a two-day rally.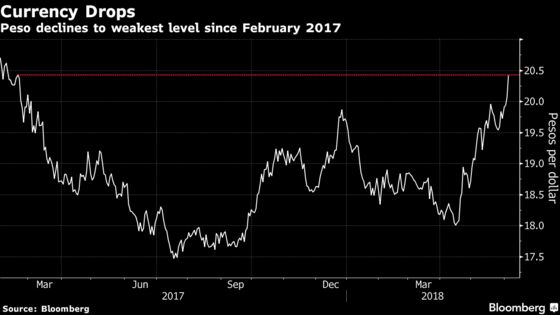 The peso slumped after White House economic adviser Larry Kudlow said President Donald Trump is "seriously considering" seeking separate trade talks with Canada and Mexico. While he clarified that Trump doesn't plan to quit Nafta, analysts cited growing concern that a trade pact with the U.S. won't be approved by Congress before 2019.
Mexico will begin to tax a range of U.S. products in retaliation for tariffs on the Latin American nation's steel and aluminum that Trump announced last week. The country will slap tariffs of 25 percent on certain cheese products, steel and Tennessee whiskey while imposing taxes of 20 percent on pork, apples and potatoes, according to a resolution published in the Official Gazette early Tuesday.
No Nafta agreement is better than a bad one for Mexico's presidential front-runner, Andres Manuel Lopez Obrador, who would insist on being part of the trade talks if elected, a top economic adviser said. AMLO, as the candidate is known, would push for Nafta talks to remain trilateral, Gerardo Esquivel said in an interview on Bloomberg TV.
Here's what strategists and investors say:
Claudia Ceja, a currency strategist at BBVA based in Mexico City:
Mexican authorities "also announced yesterday that they're bringing a case before the WTO, which is generating fear and noise that there could be a Nafta breakup"
Sees bias toward 20.35 by end of month, but with strong appreciation toward year-end
"If Nafta is canceled, we'll have to change our estimate"
Tania Escobedo Jacob, a New York-based strategist at RBC Capital Markets:
News that Trump may consider splitting Nafta talks "is more negative for Mexico than Canada. In general, since last week I think the peso is reacting to the turn of events in Nafta"
"The delay would not be negative if the assumption was that there would be continuity in the negotiations after the elections in Mexico and the U.S. But it is not the case"
"Amlo's lead has been widening and the base case is that he will win the election and bring with him a whole new negotiating team that might adopt a more aggressive stance on the topic"
Ilya Gofshteyn, a strategist at Standard Chartered in New York:
Hasn't changed forecast for 19.50 pesos/USD by end of month
"It is clearly true at this point that risks are skewed substantially to the upside for USDMXN"
"But I also think that a lot of bad news is priced into the peso at this point"
"The market is currently focused on two things, Nafta and a Morena congressional majority. Amlo is basically a done deal from a market standpoint."
"If Nafta isn't done by the election, and that seems the odds-on bet, then you get a whole new variable put in place afterwards as Amlo has said he wants a say in negotiation if talks are still happening after the presidential vote. That extends the Nafta timeline substantially"
Patrik Kauffmann, a portfolio manager at Solitaire Aquila Ltd. in Zurich
"The peso is falling because investors are seeing that it will be more and more probable that Amlo will win. The same for Mexican bonds. In my opinion, it is due to upcoming election. This is why even bonds from local companies are going down, without business outside of Mexico"