Astro Soars as Billionaire Krishnan Is Said to Consider Buyout
(Bloomberg) -- Astro Malaysia Holdings Bhd. soared for a second day after people with knowledge of the matter said billionaire T. Ananda Krishnan is considering taking the pay-television operator private.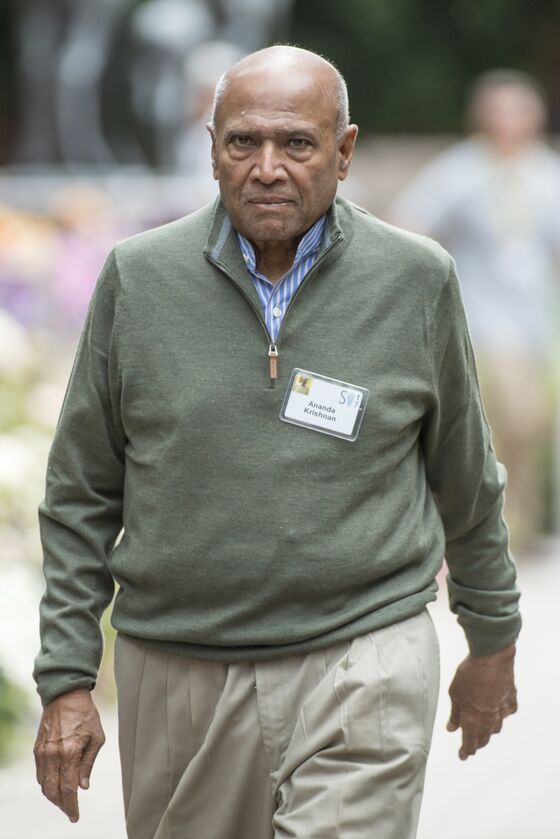 Shares of Astro jumped as much as 14 percent Wednesday, hitting a three-week high. They were up 10 percent to 1.76 ringgit at 10:03 a.m. in Kuala Lumpur, giving the company a market value of $2.3 billion. Krishnan, the tycoon who is Astro's biggest shareholder, has revived deliberations about a buyout of the company after its stock recently dropped to a record low, the people with knowledge of the matter said.
Krishnan has been speaking to potential advisers about funding options and is reaching out to some major investors to gauge their interest, according to the people, who asked not to be identified because the information is private. The company's stock had fallen 47 percent this year through the end of last week, making it the worst performer on the benchmark FTSE Bursa Malaysia KLCI Index, which was down 2.3 percent over the period.
"It's an opportunistic move from Krishnan," Justin Tang, head of Asian research at United First Partners, a special situations investment and advisory firm, said by phone Tuesday. "He would need to offer at least a 25 percent premium for people to consider his buyout offer."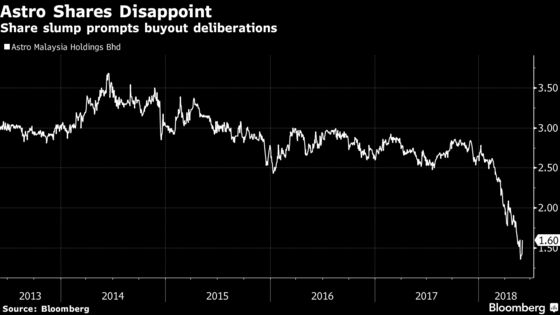 Krishnan is Malaysia's fourth-richest person with a net worth of about $4.9 billion, according to the Bloomberg Billionaires Index. The tycoon controls a 40.9 percent stake in Astro as of April 10, the company's latest annual report shows. Malaysian sovereign wealth fund Khazanah Nasional Bhd. owns 20.7 percent, while state-owned pension fund Employees Provident Fund holds 7.8 percent.
Astro's satellite-television platform offers 189 channels to its more than 5 million customers, reaching over 70 percent of Malaysian households, according to its website. The discussions are at an early stage, and there's no certainty that Krishnan will proceed with a take-private bid, the people said.
A representative for Krishnan's private investment vehicle, Usaha Tegas Sdn., didn't immediately answer a phone call and email seeking comment. A spokeswoman for Astro said she couldn't immediately comment.
Krishnan is known for buying out minority investors in his listed companies when their stock is slumping, only to bring them back to market at higher valuations later. Astro, then known as Astro All Asia Networks Plc, completed an initial public offering in 2003 and was taken private by Krishnan in 2010. Its domestic operations were relisted just over two years later, with the overseas businesses remaining in private hands.
The tycoon has pursued similar tactics with wireless carrier Maxis Bhd. and oil services provider Bumi Armada Bhd. He took Maxis's parent company private in 2007, then relisted its Malaysian business through a 2009 IPO that raised $3.3 billion, according to data compiled by Bloomberg. The tycoon bought out Bumi Armada's other investors in 2003, restructured the company and sold $882 million of stock to the public again in 2011, the data show.
Speculation that Krishnan may buy out Astro previously surfaced in 2016. The company told the Malaysian stock exchange in November that year that it hadn't received any confirmed proposal from its major shareholders.