Ex-Citi, Deutsche Bank Australia Heads Charged in Cartel Case
(Bloomberg) -- Australian prosecutors charged the former local heads of Citigroup Inc. and Deutsche Bank AG with criminal cartel offenses, the most dramatic move so far in a country bent on taking bankers to task for years of misbehavior.
The case centers on the banks' actions following a A$2.5 billion ($1.9 billion) share sale by Australia & New Zealand Banking Group Ltd. in 2015. Under Australia's cartel laws, executives can face up to 10 years in jail if found guilty. The three banks themselves are also being charged with criminal cartel offenses.
Criminal charges have been laid against:
Stephen Roberts, the former country head of Citi Australia
Itay Tuchman, who was head of Citi Australia's global markets division and now runs global foreign exchange trading in the country
John McLean, Citi's head of capital markets origination for Australia and New Zealand
Michael Ormaechea, Deutsche Bank's former Australia CEO
Michael Richardson, former head of equity capital markets at Deutsche's Australia unit
ANZ Bank's group treasurer Rick Moscati
Australia's banking industry, which thrived during the post-financial crisis years even as bankers elsewhere became symbols of destructive greed, has been convulsed in past months by public outrage. Until now, though, the scrutiny of banks had mostly centered on years of wrongdoing against retail customers and small businesses.
"These serious charges are the result of an ACCC investigation that has been running for more than two years," Australian Competition & Consumer Commission Chairman Rod Sims said in a statement detailing the charges on Tuesday. ANZ and each of the individuals are alleged to have been knowingly involved in some or all of the alleged conduct, the watchdog said.
Citigroup, Deutsche Bank and ANZ Bank have denied any wrongdoing and said they will defend against the allegations.
"Deutsche Bank reiterates that it believes it and its staff, including two former staff members Michael Ormaechea and Michael Richardson, acted responsibly, in the interests of clients and in a manner consistent with the Corporations Act and ASIC market integrity rules in relation to ANZ's institutional share placement," the bank said in a statement . "Both Michael Ormaechea and Michael Richardson are highly regarded and have our full support."
Citigroup said on Friday after the ACCC first unveiled the looming charges that a criminal case would mark an unparalleled foray by prosecutors into an area of Australia's capital markets that has successfully used underwriting syndicates for decades. "This is a highly technical area and if the ACCC believes there are matters to address, these should be clarified by law or regulation or consultation," the bank said.
A Citigroup spokesman on Tuesday referred to its earlier statement.
Under Australia's cartel laws, companies can be fined up to A$10 million, or three times the profit gained.
The case centers on ANZ Bank's institutional placement of 80.8 million shares in August 2015 and how underwriters Citigroup and Deutsche Bank disposed of the roughly 25.5 million shares they had to soak up in the sale. The third underwriter, JPMorgan Chase & Co., hasn't been charged and has declined to comment on media reports that it received immunity in return for information.
The Australian Financial Review reported Monday a recorded video conference call was expected to show ANZ and its investment banks negotiating how about A$789 million of shares which went unsold in the placement would be offloaded into the market in order to minimize any downside risk to ANZ's share price.
ANZ Bank shares slumped 7.5 percent the day after the placement. At the time, that was the biggest fall in almost seven years.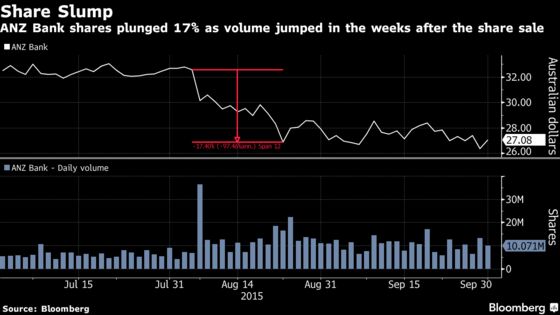 The allegations add to a litany of recent woes for the banking industry in Australia. An inquiry into misconduct in the financial industry has uncovered extensive wrongdoing, from lying to regulators, falsifying documents and taking bribes, to extracting fees from customers long since dead. ANZ Bank last year paid A$50 million to settle allegations it rigged a benchmark interest rate.
On Monday, Commonwealth Bank of Australia agreed to pay the biggest civil penalty in Australian corporate history after admitting money-laundering breaches that allowed drug syndicates to funnel millions of dollars offshore. That scandal led to the departure of former Chief Executive Officer Ian Narev.
For Deutsche Bank, the Australian case marks another headache as its stock lingers near a record low and bad headlines threaten to undermine CEO Christian Sewing's efforts to turn around the lender. Sewing is carrying out thousands of job cuts in a sweeping restructuring of the investment banking division.
The ANZ Bank cartel case is listed before the Downing Centre Local Court in Sydney on July 3.