Brexit Britain Has a Noxious New Cloud On the Horizon
(Bloomberg Opinion) -- The sun has finally brought Britain's shoppers out of their post-Christmas gloom – a relief of sorts for those who worry about the damage that Brexit might inflict on the country's economy. 
But while I've argued before that the despondency has been overdone, the recent spike in gasoline prices does leave cause for concern.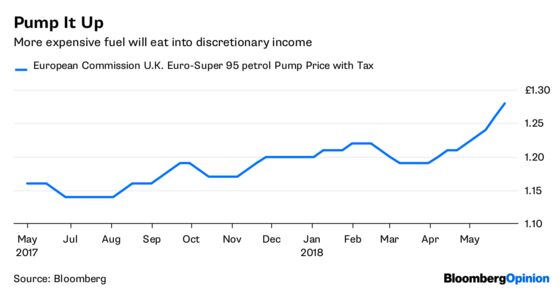 Still, to stick with the sunshine for a bit (an unusual opportunity for a Brit), it does seem that much of the poor start to the year for retailers was down to the freezing cold as much as the deeper Brexit-related problems. The broader economy also looks like it improved in May. 
As the warm weather has come back with a vengeance, as showcased by the Royal Wedding, so have the shoppers. Total retail sales rose 4.1 percent in May, according to the British Retail Consortium and KPMG, the biggest gain since January 2014 when excluding distortions from an early Easter.
While it's foolish to rely on the continuation of a decent British summer, the return of spending has coincided with the time of year when new clothing ranges and garden furniture first hit the shops. That means more purchases at full price, bolstering the profit margins of store chains.
The better performance boosts hopes that consumer weakness is past its nadir, helped by wage growth that is edging ahead of inflation. That should support retailers throughout the year.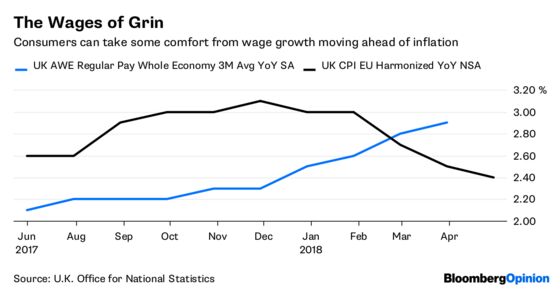 There are still some concerns, though. Electronics retailer Dixons Carphone Plc warned on profits last week as it struggles to convince Brits to upgrade their cellphones. Although rival AO World Plc says its new financial year has started well, it is nevertheless cautious.
The real risk to sentiment in general is rising fuel prices. U.K. motorists had to swallow the biggest monthly increase in the average price of gas in at least 18 years last month, with 6 pence a liter being added to pumps, according to the RAC.
Back in 2011, when inflation ate into consumer spending power, much of it came from soaring fuel costs. While food prices are coming down this time around, gas prices are not. So there are still clouds on the horizon, they just come from car exhausts.