Walmart's Brazilian Blunder Comes to an End With Advent Deal
(Bloomberg) -- Brazil's national anthem hails the country as "an intense dream." For Walmart Inc., Brazil has been more of a nightmare.
The world's top retailer retreated from Latin America's biggest market Monday, selling a majority stake in its Brazilian unit to private-equity firm Advent International. Walmart will retain a 20 percent stake in the business after the deal, which will result in a $4.5 billion non-cash net loss in the quarter. The long-rumored sale is the latest move by Walmart to reshape its global footprint, following deals in the U.K. and India.
At first glance, Walmart's decision to pull out of a nation that pundits have long touted as a key emerging market raises eyebrows. But a closer look at Walmart's 23-year history in Brazil shows a disjointed, money-losing unit that struggled to connect with consumers, endured a revolving door of management, and couldn't match French retailers Carrefour SA and Casino Guichard-Perrachon SA, the top two players there. The nation's punishing recession and political upheavals didn't help, but Walmart's Brazilian misadventure was deep-rooted.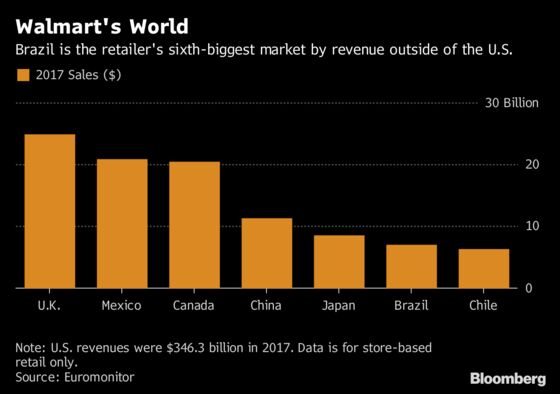 "Walmart has struggled in the Brazil market for many years," RBC Capital Markets analyst Scot Ciccarelli said in a note. The deal allows Walmart to get "out of one of its most problematic regions."
Advent is betting it can succeed where Walmart fell short. The company plans to focus on the wholesale, or cash-and-carry, strategy that has boosted growth for rivals such as Carrefour, according to a person familiar with the deal. Walmart received no payment for the business but could receive as much as $250 million from Advent based on the unit's future performance, a Walmart spokesman said.
Brazil isn't Walmart's first overseas stumble. It retreated from South Korea and Germany in 2006 after failing to gain traction in those hyper-competitive markets, and more recently it changed tack in China after an initial investment failed to produce results. It's also now stepping back from Britain, merging its Asda business with rival J Sainsbury Plc after its reputation as England's lowest-price retailer was undercut by German discounters.
Walmart entered Brazil in 1995, and grew quickly thanks to twin deals about a decade later, acquiring local retailers Sonae -- which was big in the south of the country -- and supermarket chain Bompreco. At the time, retailers who wanted to seriously compete on the global stage had to be in Brazil, whose economy was expanding at a record clip.
But Walmart didn't integrate the acquisitions, and never fully benefited from the nation's rapid growth. Its 465 Brazilian units today operate under a slew of banners, from Bompreco to Maxxi to TodoDia.
An additional problem was the company's dogmatic belief that shoppers around the world would embrace its one-stop, everyday-low-price approach just as Americans have done. But that model never really connected with consumers in Brazil, where the minimum wage is less than $275 a month, forcing shoppers to hit multiple stores to stretch out their paychecks. Doug McMillon, who ran the international division for five years before taking the CEO job, acknowledged in 2013 that "we're not making the most" of Brazil.
Meanwhile, rival Carrefour found success with an early foray into wholesale outlets, known as atacado in Portuguese, which were a big hit with Brazilians when unemployment and sweeping social-spending cuts sharply curtailed their spending power. The French retailer took its Brazilian unit public last year and analysts at Goldman Sachs expect Carrefour to double its store count in the country by 2020.
Walmart tried to adjust: It closed about 60 poor-performing stores, remodeled about 120 others and shuttered part of its e-commerce business. In 2016, the company also installed a new CEO, Flavio Cotini, its fifth Brazilian chief in less than a decade.
Without any improvements on the horizon, Brazil has become an odd fit in Walmart's new international gameplan, which calls for aggressive expansion in India and China. Investments there, like last month's $16 billion acquisition of Indian e-commerce leader Flipkart, require Walmart to retrench in other markets. The Brazilian deal will also boost earnings slightly next year, Walmart said, pleasing investors, who sent the shares up as much as 2.8 percent to $85.30 on Monday.
"Brazil never really panned out," said Edward Yruma, an analyst at Keybanc Capital Markets. "The effort required to turn the business is better spent on India."