UniCredit Is Said to Push for Merger With SocGen, FT Reports
(Bloomberg) -- Italian bank UniCredit SpA is considering a merger with France's Societe Generale SA, a move that would combine two of Europe's largest financial institutions, the Financial Times reported Sunday.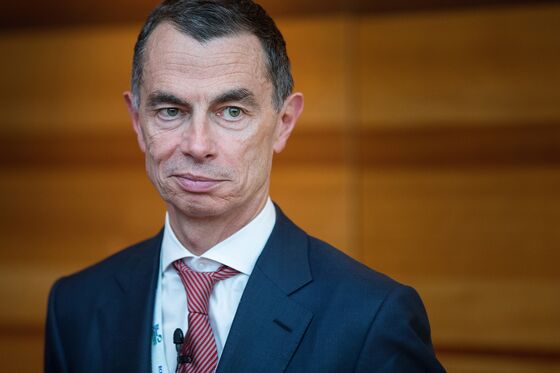 UniCredit Chief Executive Officer Jean Pierre Mustier, who is French and once worked for SocGen, has been developing the idea for several months, the FT said, citing people close to the situation. SocGen directors have also been studying the possibility of a tie-up, the FT said.
Discussions over such a merger are at an early stage, and they may be challenged by Italy's recent political turmoil, the report said. That's already pushed back the potential timetable for a deal from an original plan of 18 months, the FT reported. SocGen, France's second-biggest bank, has considered combining the entities over the past decade and a half, the FT said. The banks wouldn't be ready for a deal for at least another year, the FT said, citing bankers.
UniCredit never comments on rumors and speculation, a spokesman said when contacted by Bloomberg News on Monday. SocGen in an email denied "any board discussion regarding a potential merger with UniCredit."
Mustier told Bloomberg News in September that UniCredit had no major disposals or acquisitions in sight through 2019. "Our plan is an organic plan, we are going to push and develop the activity on the purely organic basis up to the end of the plan," he said at the time. "And post-2019, all options are open and we see what are the best alternatives."
Milan-based UniCredit, Italy's largest bank by assets, last year considered a potential merger with Germany's Commerzbank AG. The subject of consolidation among Europe's biggest lenders has been a hot topic in recent months amid low interest rates and eroding profits.
"The political and regulatory backdrop remains a significant hurdle to deliver an attractive deal," Jefferies analysts Benjie Creelan-Sandford and Marco Nicolai said in a note. "We continue to attach a lower probability to large-scale M&A from UniCredit in the absence of full banking union."
Mustier, who took the helm as UniCredit chief in 2016, has raised 13 billion euros ($15 billion) of fresh funds from investors, slashed costs and cleaned up the balance sheet as he pursues a target of 4.7 billion euros of annual net income in 2019. SocGen reshuffled its senior management last month after Deputy CEO Didier Valet's abrupt exit in March. CEO Frederic Oudea is seeking progressive dividend growth and improved profitability by 2020 while closing or selling some businesses.
"If we think that in the very short term SocGen and UniCredit are not ready for a merger, we also think that by mid/end 2019 such a deal would make a lot of sense," analysts at Natixis wrote in a report on Monday. "Indeed, for the time being, SocGen needs to continue to clean up its balance sheet (litigation and non-core assets). On the other side, UniCredit is focused on cutting its cost base and reducing its exposure to NPLs."
UniCredit was unchanged in Milan trading at 10:05 a.m. after climbing by as much as 4.1 percent earlier. SocGen was up 1.8 percent at 38.22 euros, giving the company a market value of about 31 billion euros.