The $26 Billion Reason Why Qatari Banks Are Enduring Embargo
(Bloomberg) -- Qatari banks have fared surprisingly well since four Arab nations started a boycott a year ago.
It's thanks to the government and state-owned companies, which increased deposits by about $26 billion since May 2017, making up for a flight of capital after a Saudi-led group of nations cut commercial links with the country. That helped buoy an industry where foreign deposits accounted for about 25 percent.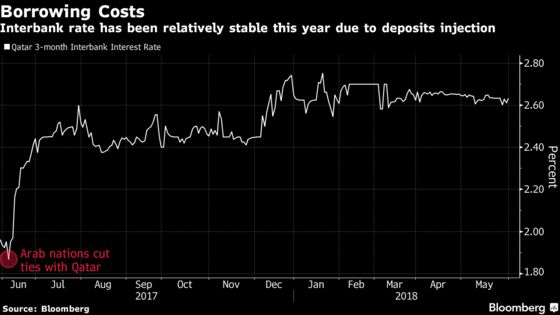 "The biggest worry was how banks would manage their deposits with funds being withdrawn from the boycotting countries, but the government has bailed them out to a great extent," Chiro Ghosh, an analyst at SICO BSC, in Bahrain said by phone. "The government has also maintained spending so the lending book has been fairly strong, with more than 60 percent of bank lending in the past year being to the public sector."
The world's biggest liquefied natural gas exporting nation has pressed ahead with a $200 billion infrastructure plan in preparation for the 2022 soccer World Cup, supporting demand for loans.
That, together with the injection of deposits, has kept borrowing costs stable and helped boost the combined profit at Qatar's nine listed banks by 12.5 percent in the first quarter, well above an average of 7.4 percent for publicly-traded Saudi banks, data compiled by Bloomberg show.
Government deposits at banks have grown 46 percent from May 2017 to 303.8 billion riyals ($83 billion) as of April
The share of foreign deposits declined to 17.9 percent in April
Overall deposits climbed 1.7 percent in the 12 months through April, loans advanced 3.7 percent in the period
Saudi Arabia, the United Arab Emirates, Bahrain and Egypt cut economic and diplomatic ties with Qatar on June 5 last year. They accused the country of financing terrorist groups and having close ties with Iran, charges Qatar rejects. The rift prompted the gas-rich nation to ease visa restrictions and increase trade with Turkey and Iran.
Qatar has managed the challenges of the spat with its neighbors well, according to the International Monetary Fund, which sees the economy growing 2.6 percent this year, up from 2.1 percent. Defense Minister Khalid bin Mohammed Al-Attiyah said on Sunday national product, including medicine and food, has "grown exponentially."
The government dipped into its reserves to help prop up banks, and has enough assets to intervene further if needed, according to Ziad Daoud, the chief Middle East economist for Bloomberg Economics.
Read More: Hurt But Standing -- a Year of Boycott in Charts
Banks have been tapping the international debt market more to help shore up their finances this year. They raised a combined $7.4 billion in bonds denominated in foreign currencies ranging from the Australian dollar to the Chinese yuan, the most on record on a year-to-date basis, data compiled by Bloomberg show.
The debt sales and the government's deposit injection have helped keep domestic borrowing costs stable this year. While the three-month Qatar Interbank Offered Rate, a benchmark used to price loans, jumped in the wake of the political spat in June 2017, it has lingered near 2.63 percent in 2018.
That compares with 2.45 percent in Saudi Arabia and 2.46 percent in the U.A.E.
Banks have also avoided a build-up of bad loans, central bank data show. Non-performing assets as a proportion of total loans at Qatari lenders averaged at 2.14 percent in the first quarter from 2.08 percent in the second quarter of 2017, according to data compiled by Bloomberg.
The reason why the increase was so slight is probably "because most of the businesses are owned by very high net-worth individuals that have different sources of revenue," Elena Sanchez-Cabezudo, a managing director at investment bank EFG-Hermes U.A.E. Ltd., said by phone. "So it could well be the case that real estate and tourism or hotels aren't doing that well, but there will be another area compensating for that."
Ghosh at Sico Bahrain forecast high single-digit average earnings growth at banks this year, while Sanchez-Cabezudo sees growth in the mid-single digits.