SocGen Agrees to Pay $1.3 Billion to End Libya, Libor Probes
(Bloomberg) -- Societe Generale SA will pay about $1.3 billion to resolve a probe into the bribery of Libyan officials and settle a U.S. investigation into interest-rate manipulation, drawing a line under two of the French bank's biggest legal headaches.
SocGen will pay $585 million to resolve charges with U.S. and French law enforcement agencies related to the Libya investigation and $275 million for violations arising from helping rig benchmark interest rates including the London InterBank Offered Rate. The bank will also pay about $475 million to the U.S. Commodity Futures Trading Commission to settle the Libor probe, according to a statement on Monday from the regulator.
Legg Mason Inc., a Maryland-based investment management firm, was also penalized Monday for having a role in the Libyan bribery matter, agreeing to pay $64 million in a resolution with the Justice Department.
The SocGen settlement is one of the largest against a financial institution under the Trump administration, which inherited investigations into activities including the sale of crisis-era mortgage bonds. The CFTC's penalty against the bank, at nearly half billion dollars, was larger than all the penalties doled out by the regulator this past fiscal year. The agency must turn over all of that to the U.S. Treasury.
In the Libyan case, SocGen entered into a deferred prosecution agreement with the Justice Department, and one of its units, SGA Societe Generale Acceptance NV, is scheduled to plead guilty Tuesday in federal court in Brooklyn to a charge of conspiring to violate the U.S. Foreign Corrupt Practices Act, according to a Justice Department statement. Half of the $585 million criminal penalty will be paid to France's Parquet National Financier.
"For years, Société Générale undermined the integrity of global markets and foreign institutions by issuing false financial data and by fraudulently securing contracts through bribery," Acting Assistant Attorney General John Cronan said in a statement. "Today's resolution -- which marks the first coordinated resolution with France in a foreign bribery case -- sends a strong message that transnational corruption and manipulation of our markets will be met with a global and coordinated law enforcement response."
SocGen announced earlier Monday that it had reached agreements in principle with U.S. authorities and the Parquet National Financier. Legal provisions allocated to the Libor and Libyan matters fully cover the penalties, the bank said in a statement before market hours. SocGen has yet to resolve a U.S. probe into whether the bank facilitated transactions in violation of economic sanctions.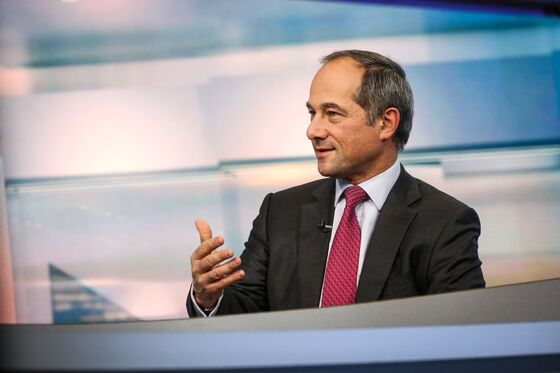 SocGen joins lenders including Deutsche Bank AG and Royal Bank of Scotland Group Plc that paid billions of dollars in fines to settle such charges. For Chief Executive Officer Frederic Oudea, at SocGen's helm since 2008, resolving the issues removes an important area of uncertainty for the bank as he works to meet ambitious 2020 targets for profitability and revenue growth.
"It's good news for SocGen," said Francois Chaulet, who helps manage about 500 million euros at Montsegur Finance in Paris. "It should reduce concerns over their legal risks."
SocGen rose 0.7 percent to 37.81 euros in Paris trading. That came after news of the settlement and a report in the Financial Times on Sunday that the bank is considering a merger with Italian rival UniCredit SpA. SocGen denied there are any discussions of a tie-up.
Talks to end the Libor and Libyan probes, started under President Barack Obama, intensified over recent months, and Didier Valet, appointed deputy CEO at the start of 2017, stepped down on March 14 as the bank worked to resolve the matter. His departure was to help avert restrictions that could be placed on SocGen's U.S. businesses, a person familiar with the matter said in March.
Rather than just replacing Valet, SocGen went for a broader management shakeup. Deputy CEO Severin Cabannes is taking over Valet's investment-banking responsibilities, while SocGen also appointed three new deputy CEOs. That followed a disappointing first quarter for the bank in its key equity trading division.
U.S. prosecutors had collected documents suggesting that SocGen executives were aware that its bankers were submitting fake U.S. dollar Libor rates, Bloomberg News reported in November. The misleading numbers made bank borrowing costs look lower than they actually were.
The Libya probe marked the first time that the French authorities had partnered with the Justice Department in a case of such magnitude and complexity. Under a 2016 French law, the country's prosecuting authorities received expanded powers to fight financial misbehavior, including a new settlement procedure.
The French authorities' involvement shows a change of tack toward the country's own banks. France bristled in 2014 at U.S. plans to levy as much as $10 billion in fines against BNP Paribas SA for sanctions violations, and then-President Francois Hollande raised what he called stability-threatening penalties with President Barack Obama.
In 2016, France stopped cooperating with U.S. information requests in the SocGen matter after deciding that doing so could hurt the country's economy and threaten its national interest, three people familiar with the situation previously told Bloomberg.
L'Agence Française Anticorruption was tapped with making sure SocGen complies with its responsibilities under the Justice Department resolution.
Legg Mason entered into a non-prosecution agreement with the Justice Department after admitting that one of its units, Permal Group Ltd., partnered with SocGen during the Libyan bribery scheme, which ran from 2004 to 2010, according to a Justice Department statement.
While the improper payments to a Libyan broker were made by SocGen, Legg Mason's Permal, which managed Libyan investment funds, made $31.6 million from the transactions, according to prosecutors.
"The misconduct by former employees of the legacy Permal business that the government found was totally unacceptable," Legg Mason Chairman and CEO Joseph Sullivan said in a statement. "It violated our high standards, our long-held core values and our 'no-chalk' culture."
Sullivan said Legg Mason has cooperated with the U.S. investigation for more than seven years and expects to soon resolve a related inquiry by the Securities and Exchange Commission. The company, in its statement, said it expects all matters relating to the Libyan conduct to be resolved for about $71 million.