PetSmart Is Said to Move Chewy Stake in J. Crew-Style Deal
(Bloomberg) -- PetSmart Inc. transferred over a third of Chewy.com Inc.'s equity to separate entities, putting the stake out of reach of certain bondholders who financed its purchase a year ago with $2 billion in debt.
The pet superstore sent 20 percent of Chewy's shares in the form of a dividend to a holding company controlled by its private equity owner BC Partners, according to people with knowledge of the matter. It also moved 16.5 percent of Chewy to an unrestricted subsidiary of PetSmart, said the people, who asked not to be identified because the transfer is private.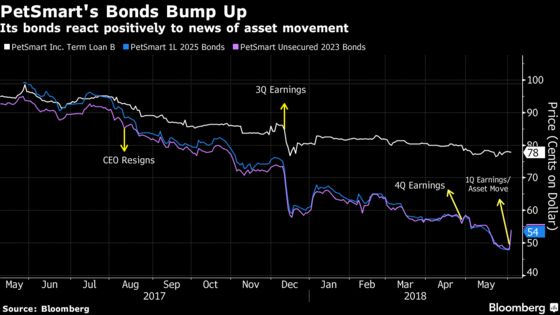 PetSmart's bonds rallied as the move of the online vendor's assets was seen as less aggressive than what bondholders had originally priced in, according to the people, who said the initial buyers of the notes have unloaded the positions. Investors sold PetSmart's debt last year on fears it would sell or spin off as much as 100 percent of the Chewy equity to the private equity owner, removing it from the pool of assets they have recourse to as bondholders.
The disclosure of the transfer was made in addition to PetSmart's first-quarter earnings on Monday morning. The retailer hosted a conference call with market participants after the market close in New York, sticking roughly to the language of the release statements, the people said. The company's management said that said they will continue to actively monitor the capital structure and potentially pursue additional strategic opportunities to extend debt maturities, reduce overall leverage and invest in the business, according to the people. Management didn't have a question and answer portion at the end of the call.
Representatives for Phoenix-based PetSmart and BC Partners in London declined to comment on the asset transfer and the earnings. The PetSmart representative didn't immediately respond to a message seeking comment on the call with management.
The move mimics asset transfers initiated by other distressed retailers, especially those owned by private equity sponsors. J. Crew Group Inc. and Claire's Stores Inc. have created subsidiaries to hold assets including intellectual property, insulating them from creditors while freeing them up for use as collateral to back new debts. With retailers dominating lists of troubled issuers, lenders and analysts have been speculating about who'll be next to "pull a J. Crew."
Petsmart's transfer of assets to an unrestricted subsidiary was not surprising given what J. Crew was able to do with its transfer of intellectual property under its loan documents, James Wallick of Xtract Research said in an interview. The move is "symptomatic" of the current market for loans and bonds, where agreements "are so flexible that you can do a transaction such as this."
Petsmart's bonds due 2023 and 2025 were the biggest gainers in the U.S. bond market on Monday, adding about 5 cents on the dollar to 53.50 cents and 52.75 cents respectively, according to Trace bond-price data. The company's term loan was quoted at 77.5 to 78.5 cents on dollar this morning after the release, one of the people said.
The adjusted Ebitda, or earnings before interest, tax, depreciation and amortization, for PetSmart's brick and mortar business excluding Chewy was $317.3 million for the first quarter, compared with about $285 million a year earlier, the people said. Chewy, which has yet to turn a profit, also saw an improvement in earnings and sales in the quarter, according to the people.
Chewy remains a guarantor of PetSmart's asset-based loan and a restricted subsidiary under both PetSmart's credit agreement and senior bonds' documentation.