Ouattara Hint About Extending Ivory Coast Rule Stirs Concern
(Bloomberg) -- Two years before Ivory Coast President Alassane Ouattara is due to step down after completing two terms in office, he's suggesting he may seek re-election in 2020.
While presidents from Burundi to the Democratic Republic of Congo are clinging to power beyond two terms, Ouattara has earned international praise for restoring stability and high economic growth rates in the West African nation he's led for seven years. Now, he seems unsure whether to honor his pledges to leave when his current term ends.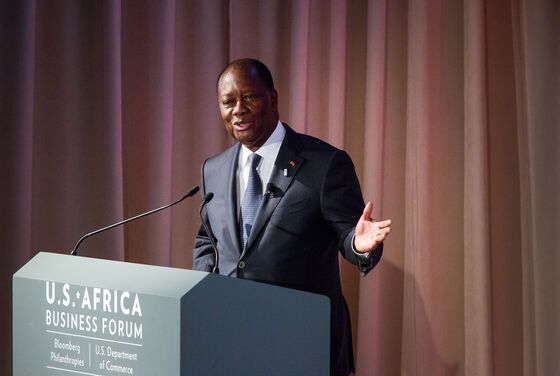 Ouattara, 76, told the weekly magazine Jeune Afrique in an interview published Sunday that he's still deciding whether to run again, saying a constitution adopted in 2016 allows him to extend his time in office. While Ivory Coast has a limit of two presidential terms, Ouattara's Rally of the Republicans party says the new charter has reset the clock.
While its ruling coalition partner, the Democratic Party of Ivory Coast, hasn't yet officially responded to the comments, one of its lawmakers, Felix Anoble, told reporters Tuesday that his party wouldn't allow the president to seek re-election.
"It's a pretty clear signal -- I think he wants to do a third term but he's aware that his candidature will be rejected by the public and could be a potential source of violence,'' said Rodrigue Kone, a sociologist at the University of Bouake. "Everybody knows it's not a good idea, but the biggest problem is that there isn't a real alternative.''
The interview has gone viral on social media in Ivory Coast and comes after Ouattara first appeared to reconsider earlier pledges to stick to two terms by saying "we'll see what happens'' when asked in November whether he would step down. In previous years, he was firm in saying he'd quit by 2020.
Massere Toure, the head of communication for the presidency, didn't answer calls seeking comment.
Some analysts say Ouattara is deliberately stoking confusion about his plans in order to reaffirm his authority. Officials within the ruling coalition started jockeying for power after the 2016 constitutional reforms, which created the position of vice president and abolished the upper age limit for presidential candidates.
"He's taken control again by leaving everybody guessing," said Arthur Banga, an analyst at the University of Cocody in the commercial capital, Abidjan.
After a first term that saw record economic growth, averaging 9 percent from 2012 to 2016, his second term was roiled by a series of army mutinies and a general strike by civil servants over pension payments. Even so, the economy of the world's largest cocoa producer expanded 7.8 percent last year and is forecast to grow more than 7 percent this year and next, according to the International Monetary Fund.
His administration's focus on large infrastructure projects has sustained one of Africa's fastest-growing economies since 2012 and helped the country regain its position as a regional hub in French-speaking West Africa.
Ouattara swept to victory in a 2010 vote, defeating then President Laurent Gbagbo, whose tenure was marred by a failed coup that split the country into a rebel-held north and a government-run south and fueled outbreaks of violence across the country.
The opposition has fallen apart since Gbagbo was deported to The Hague to stand trial at the International Criminal Court for human-rights abuses committed during a six-month standoff after the elections in which he refused to acknowledge defeat.
The two parties in the ruling coalition derive their support from two of the nation's main ethnic groups, the Dioula who are viewed as northerners and the Baoule from the southeast.
Efforts to transform the alliance into a single party have been undermined by the internal rivalry over Ouattara's succession. Democratic Party of Ivory Coast leader Henri Konan Bedie, 84, insists his party must nominate the coalition candidate for the next elections in return for his support for Ouattara in 2010 and 2015 elections.
At the same time, growing inequality and the strong grip of Ouattara's northern supporters on the administration have eroded his popularity. Evictions of thousands of people from makeshift settlements in Abidjan and a drive to chase street vendors and beggars from intersections have stoked criticism that the government is ignoring the poor.
Corruption cases have further undermined the government's reputation. Last month, 18 officials were arrested for setting up an import system for cars that avoided paying custom duties. There's been little progress in improving transparency in the cocoa sector, which represents the nation's biggest export earnings.
"There's a strong desire for change - people are really tired with the old generation of politicians," Banga said. "Another election victory for Ouattara isn't guaranteed, given issues like corruption and the unequal distribution of wealth."