Nektar Plummets Amid Concern Over Cancer-Drug Trial Results
(Bloomberg) -- Nektar Therapeutics lost a third of its value in Monday trading after response rates in melanoma and kidney cancer patients decreased in a mid-stage trial of the company's cancer drug in combination with Bristol-Myers Squibb Co.'s Opdivo.
"I do think it will improve with time, but it's hard to not be nervous about that," said Brad Loncar, founder of Loncar Cancer Immunotherapy exchange-traded fund, which holds Nektar shares.
Shares plummeted as much as 36 percent at 9:45 a.m. in New York, the most in 14 years. San Francisco-based Nektar sought to assure investors that responses will get better as patients added in the second part of the study stay on the treatment longer.
"You have to think of it as a snapshot, it's a moment in time," Nektar Chief Scientific Officer Jonathan Zalevsky said in an interview at the American Society of Clinical Oncology meeting in Chicago. "We have high confidence based on our data that, over time, these response rates are going to improve."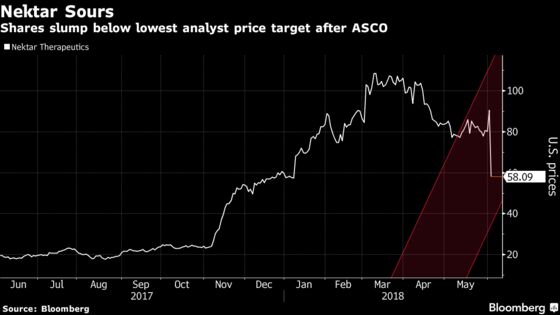 Analysts also remain optimistic. William Blair's Andy Hsieh, who has the equivalent of a buy rating on Nektar shares, says it might be better to evaluate the combo in a few months after patients have been on treatment for eight months.
"The jury is still out," but the responses in PD-L1 negative patients -- who don't typically respond as well to Opdivo alone -- and the continued deepening of responses "is really compelling," Hsieh said in an interview.
Evercore ISI analyst Umer Raffat said the collaboration with Nektar makes sense for Bristol-Myers and the drug combo should progress into pivotal trials. The regimen still looks "very active" in patients whose tumors were negative for the PD-L1 protein, both in melanoma and kidney cancer, Raffat said in a note. He has the equivalent of hold rating on Bristol-Myers.
Mario Sznol, an investigator in Nektar's study from the Yale Cancer Center, agrees that the data are good enough to move into the final stage of testing generally required for U.S. regulatory approval. He cautioned, however, that it remains to be seen whether the drug combination will improve or lengthen patients' lives significantly.
"The drug does what it's supposed to do," Sznol said in an interview at ASCO. But "you can't conclude that it's better until you do the randomized trial."