Microsoft's GitHub Buy May Spell More Work for Competitor
(Bloomberg) -- A company whose ticker is "TEAM" was just out-shined with crafty teamwork by a competitor.
Atlassian Corp. Plc turned positive late in Monday's trading after a drop of as much as 2.3 percent after Microsoft Corp. agreed to purchase GitHub for $7.5 billion in stock. Bloomberg Intelligence analyst Mandeep Singh notes that "Atlassian will now have to compete against Microsoft, which is much bigger than GitHub on a stand-alone basis."
Atlassian had named Microsoft and GitHub among the competitors in the markets it services in its latest annual filing. The provider of team collaboration and productivity software cited consolidation in the sector as potentially increasing competition for their products by providing a "more comprehensive" offering.
With Microsoft now acquiring the self-described largest community of developers, Atlassian has work to do.
"We compete with Microsoft across many products, and have been very successful with a unique bottoms-up business model," said Sean Regan, Atlassian's Head of Growth for Software Teams, in an email to Bloomberg News. "Bitbucket, our GitHub competitor, is used by tens of thousands of customers, including over 60 of the Fortune 100," he added.
The developer operations segment had been fragmented, Singh wrote in February, while citing the potential for more acquisitions in the market as large legacy vendors are able to repatriate their offshore cash amid a lower tax rate. Atlassian and smaller rival New Relic Inc. were named as "pure-play" vendors and were among the list of targets Singh identified for some of the larger players.
Nevertheless, Atlassian is only getting more expensive and has pared its earlier declines in New York trading on Monday. Since its December 2015 IPO, the Sydney-based company has rallied 200 percent, outperforming Microsoft and the Russell 1000 Technology Index by more than a factor of 2, bringing its market capitalization to $15 billion -- double what Microsoft paid for GitHub.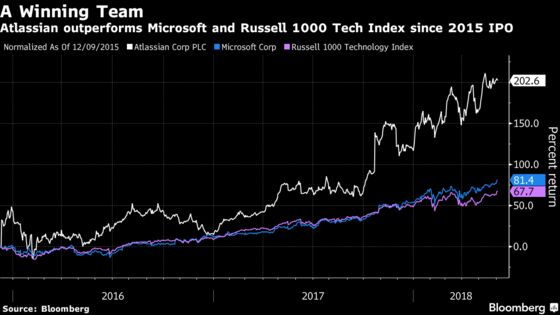 William Blair analyst Bhavan Suri in a note to clients said that media reports from 2015 valued GitHub at $2 billion, so today's take out price of $7.5 billion would equate to a ~275 percent gain over roughly the same period since Atlassian's IPO.
Suri added that while the GitHub acquisition is a headwind for Atlassian's Bitbucket business over the longer term, it's only a small portion of its business, which William Blair estimates is likely close to 5 percent of revenues.