Loxo Knocks It Out of the Park for Second Year in a Row
(Bloomberg) -- Same company, same conference, different drug.
Loxo Oncology Inc. just hit a home run for the second year in a row at the American Society of Clinical Oncology conference this weekend. Shares rose 12.5 percent pre-market after results for its second targeted cancer treatment, LOXO-292, satisfied investors and led analysts to raise their price targets to new highs.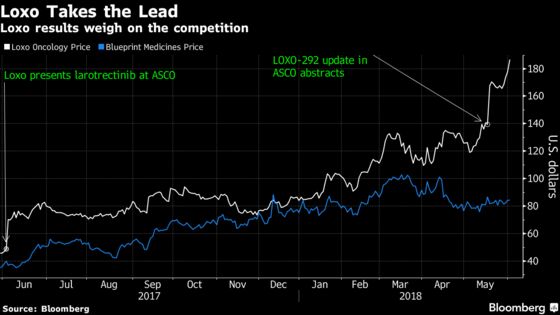 Loxo analysts including Stifel and Morgan Stanley both raised their price targets over the weekend. Stifel analyst Stephen Willey has a new Street high of $225, with "LOXO-292 looking increasingly larotrectinib-like," he wrote, comparing the latest drug results to last year's for Loxo's first targeted cancer therapy. A decision from the Food and Drug Administration on larotrectinib is expected before the end of this year.
Morgan Stanley analyst Matthew Harrison raised his target on Loxo to $215, writing that if all his risk adjustments were removed his valuation of the drugmaker would rise to $250. Loxo's study "sets a high bar," he said in a note.
Meanwhile shares of Blueprint Medicines Corp are indicated sharply lower (indicated $75.00/$79.50 vs $84.48 close) as the Street draws comparisons to its drug and LOXO-292, both targeted cancer therapies known as RET-inhibitors.
"Loxo appears to have the edge," said Goldman Sachs analyst Terence Flynn, who rates Blueprint a buy. He also sees Loxo's drug as having a competitive advantage over Blueprint in lung cancer. Recent share weakness should offer investors "an attractive entry point" as he sees most of the competitive risk already reflected in shares.