Iran Can Do More After Record Nuclear Inspections, IAEA Says
(Bloomberg) -- Iran could do a better job of cooperating with international inspectors who conducted a record number of snap visits last year to its nuclear-related facilities, the United Nations' atomic watchdog said, as doubts persist about the future of a landmark deal the U.S. has abandoned.
"There's room to provide us with more proactive and timely cooperation," Yukiya Amano, the International Atomic Energy Agency's director general, said Monday in Vienna. "I am not saying we have any concerns. The agency has conducted complementary accesses to all the sites and locations in Iran which we needed to visit."
One of the agency's most powerful tools is "complementary access," which provides short-notice entrance to nuclear sites and other facilities and wasn't an option for the IAEA in Iran before the 2015 nuclear deal. In 2017, the second full year of the accord, the 35 snap inspections in the Islamic Republic were the most for any country in at least six years, agency data show.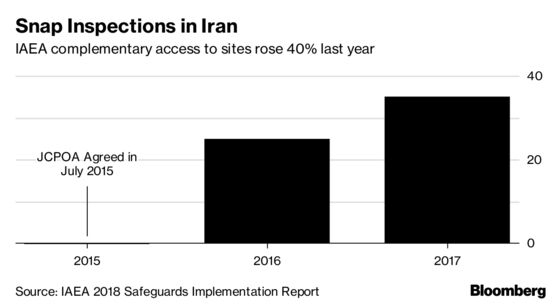 The IAEA's board of governors convened Monday in Vienna for the first time since U.S. President Donald Trump quit the agreement in May. The accord curbed Iran's nuclear program in exchange for an easing of some sanctions, and Amano previously warned that allowing it to fail would be a "great loss for nuclear verification."
The worst-case outcome would be an Iranian pullout from the Nuclear Non-Proliferation Treaty, potentially casting the Middle East into a new crisis, a senior Iranian official said last week. Conservative hardliners in Tehran, who all along said Iranian President Hassan Rouhani was naïve to trust the U.S., have been emboldened by Trump's move.
Supreme Leader Ayatollah Ali Khamenei on Monday asked the Atomic Energy Organization of Iran to start working toward increased enrichment capacity while staying within the framework of the nuclear agreement. Specifically, he characterized it as preliminary work toward achieving a goal of 190,000 separative work units, a figure that would exceed the deal's limits. He said European signatories to the accord can't expect Iran to both bear sanctions and have its nuclear program restricted by the 2015 accord.
A spokesman for the Atomic Energy Organization of Iran, Behrouz Kamalvandi, later said Iran would be notifying the IAEA that it planned to start a process to increase its capacity to produce uranium hexafluoride, a feedstock for centrifuges, Tasnim news agency reported.
Ariane Tabatabai, a senior associate with the Proliferation Prevention Program at the Washington-based Center for Strategic and International Studies, said there is no need to be "alarmist" about Khamenei's comments. Tabatabai said they echo previous calls and that Iran wasn't able to reach that level even before its nuclear program was curbed by the 2015 deal.
"They don't have enough centrifuges, enough capacity, to get to 190,000 SWUs," she said.
Separately, Israeli Prime Minister Benjamin Netanyahu has urged the IAEA to investigate Iran over a new cache of data that allegedly shows nuclear weapons work in the Islamic Republic prior to the nuclear deal. The agency has only had an "initial exchange of views" with Israeli officials about that information, according to Amano. "We are starting to look into the information and it will take time," he said.