Commonwealth Bank to Pay Record Fine to Settle Laundering Suit
(Bloomberg) -- Commonwealth Bank of Australia has agreed to pay the biggest civil penalty in Australian corporate history, after admitting to more than 53,000 money-laundering law breaches that allowed drug syndicates to funnel millions of dollars offshore.
The nation's largest lender will pay A$700 million ($530 million) to bring to an end the 10-month saga, which led to the departure of former Chief Executive Officer Ian Narev and gave impetus to a wide-ranging inquiry that's uncovered further wrongdoing by Australia's banks and wealth managers.
"While not deliberate, we fully appreciate the seriousness of the mistakes we made," Matt Comyn, who took over as CEO in April, said in a statement detailing the settlement Monday. "Our agreement today is a clear acknowledgment of our failures and is an important step towards moving the bank forward. I apologize to the community for letting them down."
While the penalty is less than one-tenth of the A$9.88 billion cash profit the bank made last fiscal year, it's almost double the A$375 million that Commonwealth Bank set aside in its first-half earnings report. The bank will also pay the financial crimes agency's legal costs of A$2.5 million.
Commonwealth Bank shares rose 1.7 percent in early Sydney trading. Still, the stock has fallen about 17 percent since the scandal erupted in August.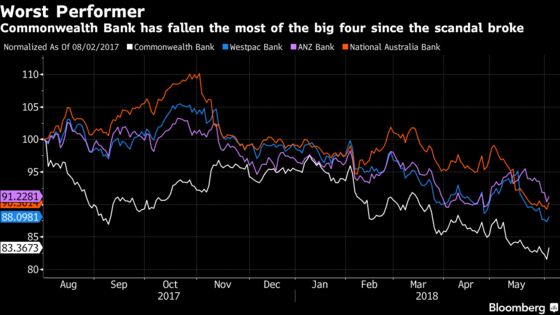 The suit centered around the bank's automated cash deposit machines, which allowed anonymous, unlimited deposits to recipient accounts that could then be funneled offshore or to other domestic accounts. When the machines were introduced in May 2012, they handled A$868,825 in cash deposits in the first month of operation. By May 2017, that had swelled to A$1.7 billion.
By July 2015, Commonwealth Bank had evidence that criminal syndicates were laundering several million dollars through the machines, according the settlement. Had the bank introduced daily limits to the amount of cash that could be deposited through the machines, it would have "disrupted" money-laundering activity by syndicates involved in the importation and distribution of drugs including methamphetamine, the settlement said.
In all, the bank admitted to the late filing of 53,506 transaction reports for cash deposits through its so-called intelligent deposit machines. It also admitted to further breaches of the anti-money laundering and terrorism financing laws beyond those already admitted, including contraventions in risk procedures, reporting, monitoring and customer due-diligence.
A report commissioned by the banking regulator after the scandal broke found a culture of complacency ran through the bank "from the top down," and its financial success had "dulled the senses" in addressing risk.
If agreed to by the Federal Court, it will be the largest civil penalty in Australian corporate history. Gaming company Tabcorp Holdings Ltd. paid A$45 million to settle 108 breaches of anti-money laundering laws.
Commonwealth Bank last month agreed to pay A$25 million to settle a separate suit over alleged rigging of a benchmark interest rate.