Canada's Cold Spring Means 22% Drop for Maple Syrup Production
(Bloomberg) -- Chilly spring weather means less maple syrup this year from Canada's Quebec, the world's biggest producer.
The province harvested 118 million pounds (53,500 metric tons) this season, a 22 percent drop from last year's record 152.2 million pounds, the Federation of Quebec Maple Syrup Producers said Monday in a statement. That's the lowest since 2015 after production was hurt by unusually late snow and cold.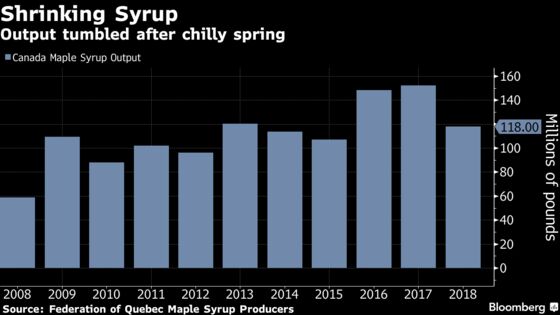 Still, pancake lovers can breath a sigh of relief because the government-sanctioned agency, which sets prices and controls output, will tap into its strategic reserve to cover any shortfall. The federation warehouses more than 96 million pounds of extra syrup stored in barrels. The group represents 13,700 producers in Quebec and accounts for about 72 percent of the world's maple syrup.
"Considering Quebec's low 2018 yield, the strategic maple syrup reserve will serve its purpose this year," the agency said in the statement. "Consumers won't run out of maple syrup or have to pay more for the syrup they do buy."
The production woes come even after the federation has boosted the number of tree taps to quell black market sales and sustain market share amid gains in output from the U.S. The reserve, which was the scene of a notorious 2012 heist, hasn't been tapped to offset production shortfalls since 2015.