Trump's `America First' Disrupts Yet Another European Project
(Bloomberg) -- Efforts by European leaders including French President Emmanuel Macron to reform global trade rules are hitting a snag as the U.S. rattles trans-Atlantic relations with its "America First" approach to foreign policy.
President Donald Trump's disdain for the inefficiency of multilateral deals, and his willingness to enact aggressive import tariffs, has raised concern that the World Trade Organization could become collateral damage in a worldwide trade war.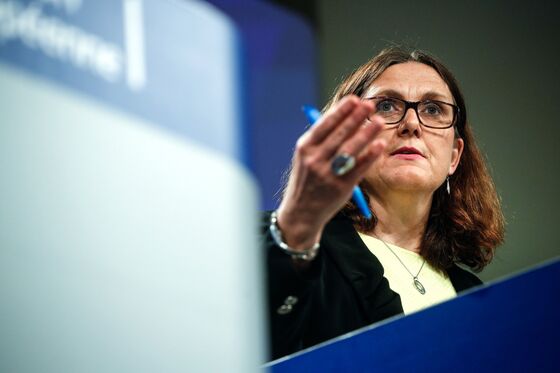 "If players in the world don't stick to the rule book the system may collapse," Cecilia Malmstrom, the European Union's trade commissioner, said in a press conference in Brussels a day after the U.S. imposed tariffs on steel and aluminum from the bloc. "We are determined to protect the multilateral system."
The U.S. has opened a multi-front trade assault on allies and adversaries alike, imposing metal duties on the EU, Canada and Mexico, threatening tariffs on as much as $150 billion in Chinese imports, and is mulling a 25 percent levy on auto imports. Washington has also taken direct aim at the WTO, blocking judicial nominations that will render its appellate body useless starting in 2019.
U.S. Commerce Secretary Wilbur Ross, speaking at an Organisation for Economic Cooperation and Development conference in Paris on May 30, explained his distaste for multi-party free-trade accords, saying "multilateral tends to negotiate everything down to the lowest common denominator and since we are the main target, we end up getting eaten away."
"Every country's primary obligation is to protect its own citizens and their livelihood," Ross said. "Maybe that's a populist saying, but it's one we feel very strongly about."
Even though European leaders bristle at Trump's approach, there are efforts to enact reforms. Macron proposed in a speech at the OECD last month that the EU, U.S., China and Japan begin negotiations to revise multilateral trade to incorporate contemporary challenges.
"Negotiations have been stalled for many years and the last major breakthroughs go back almost to the creation of the WTO itself in 1994," Macron said. "In the past decades, we've made insufficient substantial progress."
WTO Director General Roberto Azevedo concurred, saying in an interview with Bloomberg that Trump's actions were a wake-up call for both the Geneva-based institution and multilateralism.
"The system clearly needs updates, there is no doubt about that," Azevedo said. "When the WTO was created in 1995, the internet barely existed, e-commerce was non-existent. Today it's the biggest, fastest-growing sector of the economy. So, yeah, we need updates for sure."
In the meantime, the WTO is trying to weather the U.S.'s aggressive trade strategy, while also trying to mitigate the fallout of widespread retaliation to the tariffs.
"I've been urging countries and WTO members to think carefully before we embark on a trade war because once you get down that road it's much more difficult to backtrack and reverse course," Azevedo said in the interview. "Once you begin to take reciprocal measures it can provoke a domino effect."
The new levies on metal imports, as well as a threatened 25 percent tariff on auto imports, rely on a seldom-used section of a 1960s trade law that lets the U.S. erect trade barriers when imports are deemed to imperil national security.
This justification exploits a loophole in the WTO rules that allows countries to take defensive trade measures to defend "essential security interests." If countries start to abuse the national security-exemption to justify trade restrictions, it would render the WTO irrelevant.
The EU has dismissed Washington's claim that the metal tariffs are necessary to protect the nation, with the European Commission, the bloc's executive arm, saying earlier this month that the duties "cannot be justified on the grounds of national security."
The auto measures "would have a major restrictive impact affecting a very substantial part of global trade," Japanese Trade Minister Hiroshige Seko and the EU's Malmstrom wrote in a joint statement last week. "This would cause serious turmoil in the global market and could lead to the demise of the multilateral trading system based on WTO rules."