Sex Doesn't Sell for Streaming Apps Chasing Investors
(Bloomberg Opinion) -- In a corner of M17 Entertainment Ltd.'s corporate headquarters in Taipei's Xinyi district hang a row of televisions.
Staffed 24-7 by content editors for M17's live-streaming app 17, the screens display dozens of performances, mostly by women, in real time. The company's Sky Eye team, many of whom are female, is on the lookout for innovative acts worthy of a boost in promotion – a funny outfit, a unique prop – as well as any that breach its rules on salacious content (read: too much skin).
"Artist and user misconduct" is among the risk factors listed by M17 in its prospectus ahead of a New York listing this week.
Our business and the public perception of our brands may be materially and adversely affected by misuse of our platforms.
That's an understatement. The app was booted from Apple Inc. and Google app stores for about two months back in 2015 amid allegations that it was peddling what amounted to soft porn. Such content wasn't produced by M17, but the company was caught flat-footed failing to prevent some streamers from showing as much skin as possible to attract audiences and entice users, mostly men, to send virtual gifts – which could then be converted into real currency by the performer.
The skin conundrum isn't unique to M17, whose audiences are mostly in Taiwan and Japan. Shares of Momo Inc. have tripled since it pivoted from being a dating-app provider to a platform that connects wannabe pop stars with entertainment-hungry audiences. The Beijing-based company is now valued at $9.4 billion. A compatriot, YY Inc., added Bigo Live to its portfolio, helping it spread beyond China to Southeast Asia and India. Both moves heighten the role of content monitoring in avoiding backlash from regulators or social mores.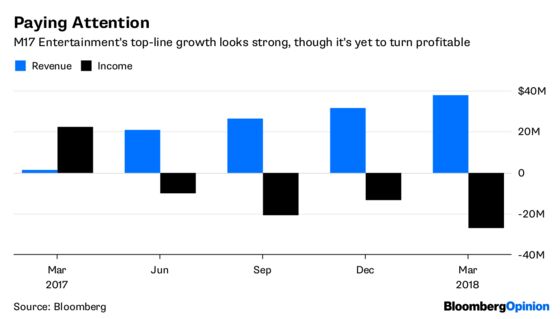 But wherever these platforms go, so too do whispers about soft porn and paid dating. It's difficult to confirm or disprove that performers and users engage in such practices, as many of the allegations come by way of salacious news reports or social media gossip.
Which is why companies like M17 are going to great lengths to build out monitoring and censorship technologies to enforce standards. Getting on the wrong side of local regulators and hyper-sensitive app-store gatekeepers is one thing; pushing too far also risks off-siding users themselves.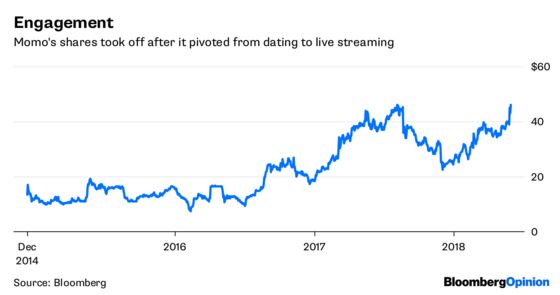 Flirtation and light-hearted fun are great ways to keep audiences coming back to their favorite performers, and reward them with tips. But although many users and company executives may not be conscious of it, straying into NSFW territory risks ruining the magic of a harmless online encounter, after which interest and engagement could drop sharply.
There's also no business benefit in facilitating unnecessarily risque content or off-line meetups, given the costly downside of getting booted from an app store. Which is why taking skin out of the game could end up being the smartest path for a live-streaming industry trying to persuade investors to tune in.