Russian Oil Output Again Tops OPEC Target Ahead of Vienna Talks
(Bloomberg) -- Russia breached its oil-output quota agreed with OPEC for a third straight month as the producing alliance prepares for crucial talks this month on increasing supplies.
Oil output averaged 10.97 million barrels a day in May, almost unchanged from a month earlier, according to data emailed Saturday by the Energy Ministry's CDU-TEK statistics unit. That means its compliance with the production quota of 10.95 million was close to 95 percent, same as in April. In March, the rate was 93 percent.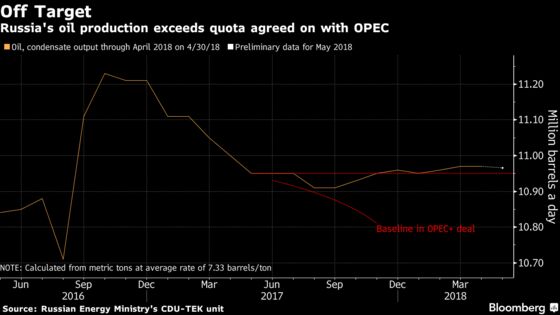 Russia and Saudi Arabia last month signaled they may start increasing supplies in the second half of this year in response to a surge in prices. The move is yet to be approved by other members of the Organization of Petroleum Exporting Countries and its allies, and some such as Ecuador have said they aren't in favor. The 24-member group is scheduled to meet in Vienna later this month to discuss the future of their landmark 2016 accord.
Several Russian companies want the production cap eased as the grand alliance has already achieved a key goal of draining a surplus in global stockpiles. The deal with OPEC has been a success and "we believe that the global energy market is currently balanced," President Vladimir Putin said May 25. "Our arrangements were never intended to remain in force forever," he said.
Russia currently has about 500,000 barrels a day of spare production capacity, according to Gazprom Neft PJSC, the country's third-largest producer. The company and Rosneft PJSC will lead the ramp up once output restrictions are eased, according to Citigroup Inc. and ESAI Energy LLC. Rosneft this week started testing its capacity to increase output.
OPEC's de-facto leader Saudi Arabia is also lifting supply. Production rose to the highest in seven months in May, according to tanker-tracker Petro-Logistics. Kazakhstan, the second-biggest oil producer in the former Soviet Union and a signatory in the supply deal with OPEC, is set to boost output to a record in May, data compiled by Bloomberg showed.