New Data Helps Loxo's Cause in Developing Targeted Cancer Drugs
(Bloomberg) -- Results from an early-stage study of Loxo Oncology Inc.'s targeted cancer therapy keep getting better, the company said at the American Society of Clinical Oncology meeting in Chicago.
The shares had already gained 34 percent since an initial abstract of the data last month was cheered by analysts as giving Loxo a lead over competitor Blueprint Medicines Corp. The updated findings show Loxo's drug has activity in heavily pre-treated patients with RET-altered cancers, including those whose tumors have spread to the brain.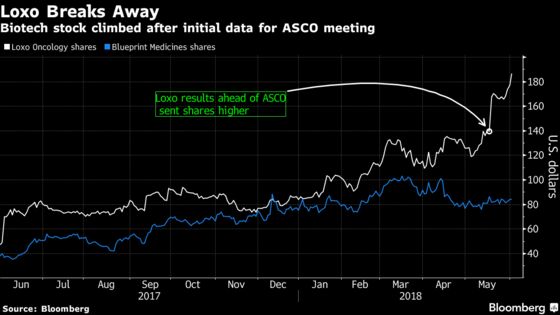 Updated data from the Phase 1 study being presented Saturday show:
An overall response rate (ORR) of 77 percent in RET fusion-positive tumors; confirmed ORR of 74 percent; rates were same in subset of non-small cell lung cancer patients
For patients with RET-mutated medullary thyroid cancer, ORR was 45 percent and confirmed ORR was 33 percent
As of the data cutoff, all responding patients across all tumor types remained on therapy; longest responding patient was on treatment for more than 10 months
Two severe (grade 3) side effects were deemed related to LOXO-292, including one case of elevated liver enzymes. Other case was tumor lysis syndrome that was considered a dose-limiting toxicity at 240 milligram twice-daily dose
Ahead of Loxo's presentation, Blueprint Chief Executive Officer Jeffrey W Albers said durability will be key to long-term success and he's confident in his company's treatment. With no approved therapies targeting RET-fusion tumors, Loxo CEO Joshua Bilenker said he sees room for more than one player "if drugs can be differentiated."
LOXO-292's "side effect profile is fantastic," Marcia Brose, a University of Pennsylvania associate professor and specialist in precision medicine, said of Saturday's results. Blueprint's results looked very similar, both therapies are taking "the same step forward" and they are likely to be well received by patients, she said. Dr. Brose has been an investigator on many trials for targeted therapies, including Blueprint's BLU-667.