Marchionne Conquers Debt, Plans Dividend: Fiat Chrysler Update
(Bloomberg) -- Fiat Chrysler Automobiles NV Chief Executive Officer Sergio Marchionne made good on his longstanding pledge to guide the automaker out of debt, and told investors he'll institute a dividend for the first time since the company was formed from U.S. and Italian rivals.
The carmaker aims to double profit over the next five years, generating about 30 billion euros ($35 billion) in industrial free cash flow. About 20 percent of profit will be earmarked for a dividend, or about 6 billion euros, Chief Financial Officer Richard Palmer said in a presentation near Turin, Italy.
Fiat's Future (5:23 p.m.)

Marchionne and Fiat Chrysler Chairman John Elkann rebuffed questions from investors about the future of the automaker after the CEO retires next year. One analyst suggested it was unorthodox for the CEO with no skin in the game to present a five-year plan without identifying a successor. Marchionne, waxing philosophical, said Fiat Chrysler's culture after its brushes with survival relies heavily on improvisation, even invoking composer Bobby McFerrin, whose biggest hit was "Don't Worry, Be Happy." "I would count on my successor to adapt the plan as he chooses, but fundamentally, the call has been made" on the company's strategy.
Elkann, scion of Fiat's founding Agnelli family, tried to put to rest suggestions that the company would be sold after Marchionne's departure. "We've been with the company for over 100 years," he said. Over 20 years' involvement starting with Fiat SpA, "I have never seen a brighter future." While the Agnellis have been open to combinations that would strengthen the manufacturer, "we wouldn't envisage as a family to really put ourselves in a selling position."
After reaching an intraday record earlier on Friday, Fiat Chrysler shares fell, ending the day down 4.5 percent in Milan. Marchionne said he was puzzled, asking whether he had issued any bad news. Some possible factors:
Executives downplayed the possibility the Alfa Romeo and Maserati brands could be combined in one unit, leading to an eventual value-creating spinoff.

"We will own these assets and build them into businesses that return yields we have talked about," Marchionne said, labeling as "speculation" any discussion on separating those businesses.

"Marchionne unveiled an ambitious and solid plan which confirmed all the expectations from investors," said Vincenzo Longo, a strategist at IG Group in Milan "Still, Marchionne didn't provide any icing on the cake which would have been a big M&A deal, which is what the market was dreaming for"
The financial targets were "more conservative than expected," said analyst Adam Jonas at Morgan Stanley
Doubling Profit (3:26 p.m.)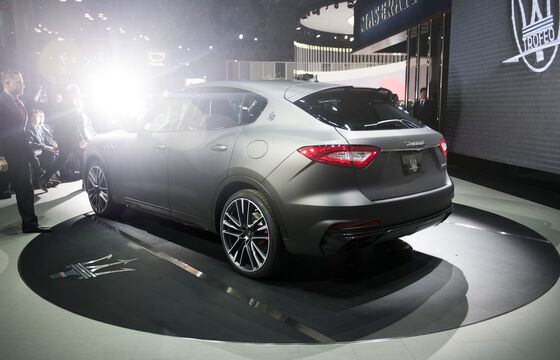 Adjusted Ebitda will rise to between 13 billion and 16 billion euros by 2022, up from about 6.6 billion in 2017. The 2017 figure excludes the Magneti Marelli parts unit that Fiat Chrysler plans to spin off at the beginning of 2019. Fiat Chrysler also said it will spend about 45 billion euros on capital investments as it tries to harness an evolving automotive market place driven by electrification, connected services and self-driving cars.
Earlier, Marchionne declared victory over one of his long-held and most ambitious goals -- to rid the automaker of net industrial debt this year.
"I expect that when we close the books at the end of June, we will report a net industrial cash position," Marchionne said as he kicked off his final strategic road map presentation for the Italian-American automaker before retiring early next year.
U.S. Finance Unit (2:50 p.m.)
Chief Financial Officer Richard Palmer, confirming a Bloomberg report earlier this week, said Fiat Chrysler plans to form a captive financial unit in the U.S. The company has an option to buy out its existing partner, Santander Consumer USA Holdings Inc., and has initiated discussions, Palmer said. Such a move could add $500 million to $800 million in incremental pretax earnings within four years, he said. Fiat could also start its own business, in which case the company envisions about $100 million in incremental profit.
A captive finance unit will allow Fiat Chrysler to "participate more fully in capturing value from emerging platforms," Palmer said, for example by securitizing vehicle fleets and offering access to service providers on a per-mile basis.
Santander Consumer issued a statement saying it will hold a conference call to discuss the matter at noon New York time.
Diesel Phaseout (2:26 p.m.)
Fiat Chrysler will phase out production of all diesel passenger cars in Europe by 2021, Marchionne said. The company sees the engine technology as increasingly challenged by both regulation and consumer attitudes, and of declining importance.
At the same time, the company will invest 9 billion euros ($10.5 billion) in electrification through 2022
Marchionne: "This is a systemic change" in the automotive market
Confirms reduction of Fiat lineup to emphasize the 500 family and Panda, focus Western European production on premium models, Punto to be discontinued
Fiat plans a full electric lineup around the 500 family; company expects full utilization of Italian plants by 2022
Autonomy, Connectivity (2:14 p.m.)
Fiat Chrysler will work with multiple partners to develop autonomous vehicles. In addition to the expanded partnership with Google's Waymo announced on Thursday, the company has partnered with BMW AG and supplier Aptiv Plc.
With Waymo, FCA will take on more customization and development duties. The companies will collaborate on a Waymo-equipped premium-model autonomous vehicle
Level 4 autonomous systems will be available on some some FCA cars by around 2023. The systems will cost about $30,000 initially, reducing to about $10,000 over time
An FCA connectivity platform will be launched in April 2019 and be available on all new cars by 2021. The system is designed to integrate with any service provider
Brand Highlights (12:28 p.m.)

The brand presentations are over. As expected, Fiat and Chrysler nameplates were left out. Here are the highlights from Jeep, Alfa Romeo, Maserati and Ram:
Jeep is targeting 1/12 of all sport utility vehicle sales worldwide by 2022, implying a will more than doubling of deliveries to as many as 3.3 million units, based on Bloomberg calculations from the presentation
Jeep will stop selling diesel cars in Europe, and introduce four new, fully electric models. The nameplate will also offer an electrification option for each vehicle by 2021, brand chief Mike Manley said
Maserati will target Tesla Inc. with a full-electric sports car that reaches more than 186 miles per hour. All Maserati powertrains, including the electric ones, will be supplied by Ferrari NV, the supercar maker spun off from Fiat Chrysler in 2016
Alfa Romeo targets boosting sales to 400,000 units by 2022, from 170,000 units this year. It will introduce seven new models, including a resurrected 8C sports car with a carbon fiber chassis
The Ram pickup division aims to increase sales by as much as 30 percent by 2022, and overtake one of its U.S. rivals to become the No. 2 commercial-vehicle brand in the Nafta region
Appearing onstage at the Balocco test track near Turin, the CEO recounted his accomplishments in saving Fiat SpA from bankruptcy in the mid-2000s and following that up with the rescue of Chrysler five years later. Then he unzipped a nondescript black sweater and, paraphrasing Oscar Wilde, revealed an "arguably well tied" blue tie.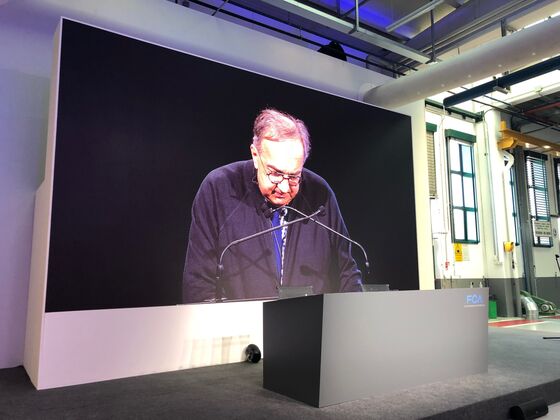 The event marks 14 years to the day since Marchionne took the helm at a struggling Fiat SpA on June 1, 2004. His concluding task on Friday is to offer investors a compelling vision for the company that will endure once he's left the stage. Marchionne, hired in the dramatic hours after the death of Chairman Umberto Agnelli when Fiat was on the brink of bankruptcy, returns to the place where, in July 2004, he presented his survival plan for the manufacturer.
One optimistic sign for shareholders: At the event in Balocco, Fiat Chrysler has handed out candy boxes inscribed: "Net cash: How sweet it is." The show's about to begin.
Record Stock Price (9:41 a.m.)


Fiat's value has increased by more than 10 times during Marchionne's tenure. The stock rose 3.1 percent to 19.99 euros as of 9:38 a.m. in Milan. That would mark a record high, based on closing prices.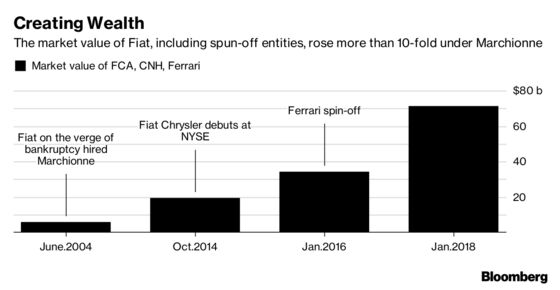 Marchionne choreographs these events well, and Friday's will be no exception. In the buildup to June 1, the 65-year-old executive -- known for wearing his trademark sweaters -- has promised to wear a tie onstage if he's ready to declare victory in his bid to rid Fiat Chrysler of net industrial debt. He's also said that doubling profit in the next five years is possible as the carmaker exploits the potential of the Jeep brand. On Thursday, Fiat Chrysler gave some shape to its bare-bones autonomous-vehicle strategy, inking an expanded partnership with Google's Waymo to outfit 62,000 hybrid-electric Chrysler Pacifica minivans with self-driving gear.
Here are some of the areas where investors will be looking for Fiat Chrysler to fill in some outlines of the five-year strategy:
More Jeep, Less Fiat and Chrysler
Marchionne has already signaled that Fiat's future rests on upscale brands that can command a price premium: Jeep SUVs, Ram pickup trucks, Alfa Romeo and Maserati sports cars and crossovers. As a consequence, Fiat Chrysler plans to downsize its namesake brands, people familiar with the matter said this week. The company is considering ending sales of Fiat cars in North America and China in the coming years, while mostly confining Chrysler to the U.S., the people said. As part of the shift, Fiat plans to end mass-market carmaking in Italy -- halting production of the Mito and Punto models, and moving assembly of the subcompact Panda to lower-cost Poland.
The carmaker is also considering combining Alfa Romeo and Maserati into a single division in Fiat's financial reports, people familiar with the matter have said. Bringing the upscale Italian brands together would be seen by investors as a first step toward an eventual spinoff -- a move that would mirror the highly successful public offering of supercar maker Ferrari NV in 2015 and the earlier spinoff of truck and tractor maker CNH Industrial NV.
Investors are waiting to get details on the separation of parts producer Magneti Marelli from the automobile-manufacturing business. The move will create value for Fiat Chrysler shareholders and allow it to focus on carmaking, while giving Marelli the flexibility to pursue growth, Marchionne said in April when the decision was approved. Like automakers, component manufacturers are contending with a monumental shift toward electric and self-driving cars, which holds promise for parts of their portfolio, and peril in other areas.
While most of the world's major carmakers have put forth detailed plans for electrifying their model lineups, Fiat Chrysler has only given a vague outline. Marchionne has said he expects that by 2025, fewer than half the cars sold will be be fully combustion-powered, as gas and diesel give way to hybrid, electric and fuel-cell drivetrains. Friday's strategy session should fill in the blanks -- Fiat Chrysler will tell investors how it will embrace new technology, hopefully with model-introduction specifics.
An agenda for Friday's presentation that was posted online but then removed included an item on U.S. consumer-finance operations, according to Automotive News. The automaker is considering its own captive finance unit in the U.S., along the lines of arrangements at American competitors, people familiar with the business plan said this week. That sent the stock of Santander Consumer USA Holdings Inc., Fiat Chrysler's current finance partner, down by the most in almost two years on Wednesday.
Marchionne in the past has set audacious targets for Fiat Chrysler, at times prompting analyst skepticism. Mostly, he's proved doubters wrong. Later Friday, after the brand presentations, Fiat Chrysler will reveal new financial goals through 2022. Marchionne said in January he expects a Jeep-focused Fiat Chrysler to be able to double profit in five years.
The biggest remaining performance goal has been a pledge for Fiat Chrysler to free itself of net industrial debt this year. Hitting his target would signal that the carmaker has pulled back from the brink and is ready to weather the next crisis. (One remaining hurdle is an ongoing U.S. investigation into possible diesel-emissions cheating, which could produce hefty fines and settlements.) Being debt-free would also set the stage for a dividend policy, which could lift the stock price. Chairman John Elkann, the head of the Agnelli family that controls Fiat Chrysler, has a necktie for Marchionne waiting in his drawer.
Perhaps the biggest question for investors is who will pick up the baton after Marchionne is gone. The CEO, is one of the longest serving in the auto industry, is leaving at a time of great transition. Chairman Elkann has said the new chief will be chosen among Marchionne's closest aides. Chief Financial Officer Richard Palmer, Europe head Alfredo Altavilla and Jeep chief Mike Manley are seen as the leading candidates.
Barring an announcement of a successor, investors will be paying attention to see which of the three gets more time on stage, or any other signals during the seven-hour-long presentation. Palmer and Manley are expected to speak about financial targets and Jeep, while Altavilla may not get the spotlight.