This Is What It Takes to Be a Top Golfer and CEO
(Bloomberg) -- What does it take to be a top golfer when you're also a chief executive officer?
Play 60 rounds a year, spend your spare time gleaning tips from books and hitting balls in your backyard. Mix business with pleasure, leveraging your game to network and exploit links between running a company and playing golf.
That's how Darren Gee landed his 8.2 handicap, ranking him among the most skilled of Canadian CEOs who disclose their golf scores. The head of Peyto Exploration and Development Corp. sees himself as "pretty decent" compared with most amateurs. He's joined by Paramount Resources Ltd.'s Jim Riddell, Sun Life Financial Inc.'s Dean Connor and Royal Bank of Canada's David McKay among corporate Canada's best with a golf club.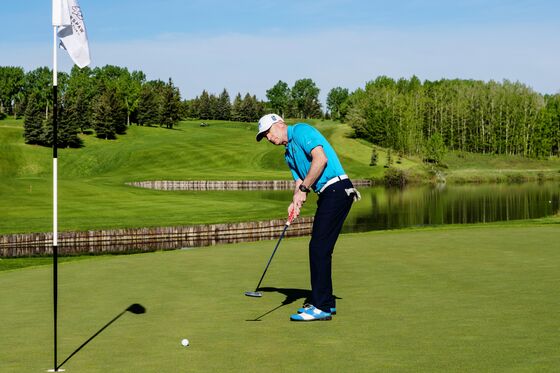 "Our Canadian golfing CEOs are pretty good," Laurence Applebaum, CEO of Golf Canada, said in an interview. "They're not great; they're pretty good."
A Bloomberg News review of 298 of Canada's largest publicly traded companies shows that of the few CEOs who regularly hit the links, they're a pretty average lot. That may not be so bad: a U.S. academic study in 2014 showed that CEOs who golf frequently are associated with companies with lower operating performance and firm value.
About 235,600 of Canada's 5.7 million golfers track an official handicap, a measure of a player's score roughly relative to par. A handicap of eight means the golfer typically shoots eight strokes over the course rating, which is close to par depending on the course's degree of difficulty. The lower the handicap, the better the player.
Bloomberg News looked at the largest Canadian companies — including 248 members of the S&P/TSX Composite Index — and cross-referenced their CEOs with the handicap lookup from Golf Canada, the governing body for the sport in the country. Some 52 CEOs took time to record scores on the public database.
The average handicap of Canadian CEOs with posted scores is 18, the data show. That's above the average of 16.9 among all Canadian golfers with a handicap, according to Golf Canada. A few are really good.
"Anybody who's a single-digit handicap, they can really golf," Applebaum said.
That includes Paramount Resources' Riddell, who has a 7.4 handicap — an accomplishment the Calgary energy executive underplays.
"The only real noteworthy thing about golf and me, and some of my colleagues, is the Shaw Charity Classic," Riddell said in an interview, referring to Calgary's annual tournament that draws professional golfers and raised C$22.1 million ($17.2 million) for youth charities over five years. "That's something I'd probably be a lot more proud of than my handicap."
Ken Dedeluk, CEO of Computer Modelling Group Ltd., has an 8.1 handicap. The Calgary executive gets lots of practice: with 233 rounds logged over three years — including 25 games this year — he's one of the country's most active golfing CEOs.
"I work to live, and live to golf," said Dedeluk, who plans to retire in July. "Running a company is easy when compared to mastering the game of golf."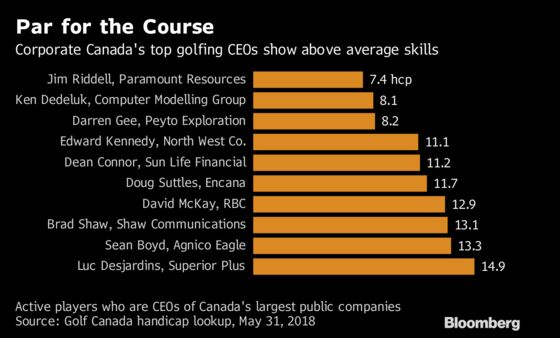 Eight Canadian CEOs would be classified by Golf Canada as "avid" golfers — playing 25 rounds or more a year — while 20 would be called "frequent" golfers, playing nine to 24 rounds annually. Others don't get out as much.
Agnico Eagle Mines Ltd. CEO Sean Boyd, who belongs to Scarboro Golf and Country Club, has a 13.3 handicap despite infrequent play.
"I really do not keep close track of my handicap as I do not get out much," Boyd said in an email. "I get in about 10 rounds a year if I'm lucky."
Some of the best corporate golfers are in Calgary, hub of Canada's energy industry. At least eight CEOs hobnob at Alberta's oldest private course, the Calgary Golf & Country Club, including Dedeluk and Encana Corp.'s Doug Suttles, who played 23 times last year and has an 11.7 handicap.
"Calgary has that special space of the long summers, the long days and you can get lots of golf in post work, plus you've also got a large business network that tends to use golf as a business tool," Applebaum said. "It's a golf hotbed."
Peyto's Gee, a self-described "golf bug", has logged 170 games in the past three years. The Albertan who belongs to Bearspaw Country Club plays one or two rounds on weekends, often with his brother but also with friends during golf season.
"I spend a lot of hours in the office," Gee said in an interview. "It's sort of my escape a little bit to get out and catch up with family and friends and see how they're doing."
Golf has crept into his work life, too. On a cabinet near his desk are framed photos of him at California's Pebble Beach and Pinehurst course in North Carolina. He's had get-togethers with bankers and other CEOs to discuss deals and other business over rounds in what he calls a "corporate sport".
"It's an incredibly good game for illuminating what a person is like because you see all aspects of them in a golf round," Gee said. "You see how they behave when they're frustrated and struggling, and you see how they behave when they're happy."
He sees links between business and golf in terms of strategy and risk. As head of a natural gas firm, Gee said he's constantly assessing operational, geological and commodity risks along with "all kinds of unknowns."
"Golf is the same: do you try to shoot over the water or do you go around? Do you take a chance and hit a club that goes further, or do you lay up?," he said. "It's all that kind of risk assessment constantly going on in the game."
Sienna Senior Living Inc. CEO Lois Cormack, who belongs to the Ladies' Golf Club of Toronto and has a 30.8 handicap, is one of the few female golfers in corporate Canada on the list. She has posted 82 rounds since the start of 2015.
The best CEO golfer in Toronto's Bay Street financial district is Sun Life's Connor, who has an 11.2 handicap and belongs to Georgian Bay Club near Collingwood, Ontario, about 150 kilometers north of Toronto.
"I'm an adequate golfer but there are plenty who are better," Connor said in an email. "I was a high handicapper until I took some lessons. I should probably take some more!"
Connor, who has played 58 games since the start of 2015 including five this year, said he plays about 15-plus rounds a year, including some on vacation.
"It's almost all with family and friends, rarely for business," he said. "We usually walk as it's a good way to get 15,000 steps in."
Also among Bay Street's best is Royal Bank's McKay, who plays out of St. George's Golf and Country Club in Toronto and has a 12.9 handicap.
"When I get the time, I golf with my kids at the weekend: both of them love the game," McKay said in an email. "On the business side, I usually play best ball or in Pro Ams, so the scores don't always get posted."
McKay scores above his predecessor, Gordon Nixon, who retired in 2014 and holds an 8.7 handicap. Nixon, who golfs in Florida in winter and at Rosedale Golf Club in Toronto and Oviinbyrd Golf Club in Muskoka in summer, has played 46 times this year.
Nixon, who has played since he was a kid, views the Canadian ranking as a "pretty weak list" compared to the "really good golfers who are CEOs" in the U.S., though that may be partly due to the sheer number of American golfing executives.
"It's surprising how there are not a lot of strong CEO golfers in Canada," Nixon said in an interview. "That's probably a good thing for business, because there aren't a lot of guys playing a lot of golf."