Next-Generation Therapies in Focus at Year's Top Cancer Meeting
(Bloomberg) -- As the year's biggest cancer conference kicks off in Chicago, investors are focused on new treatments that may help patients who don't respond to the first wave of immune-boosting drugs and cocktails designed to increase their effectiveness.
The American Society of Clinical Oncology, or ASCO, annual meeting runs through June 5. The event could be a much-needed catalyst for the biopharma sector after a high-profile study failure at Incyte Corp. dashed hopes for drug combinations that boost the immune system to attack cancers. Most combos so far "have proven to be much less exciting than anyone had hoped" but "there have to be some" that work, Bloomberg Intelligence's Sam Fazeli said.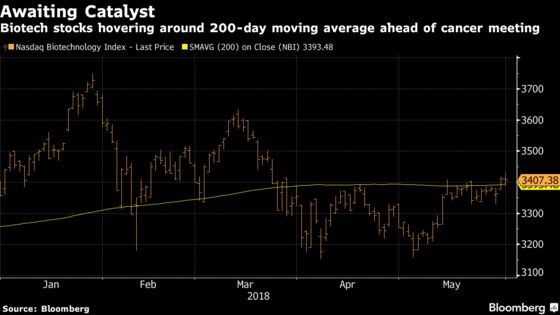 Companies in the spotlight this weekend include Nektar Therapeutics, whose shares have quadrupled in the past year on expectations for its drug combination with Bristol-Myers Squibb Co.'s Opdivo. Investors want to see if promising early data can hold up in a larger patient group.
Wall Street is also closely watching targeted therapies from companies such as Loxo Oncology Inc., whose drugs aim to treat cancers driven by genetic anomalies. Merck & Co. will look to build on lung-cancer data for Keytruda that stole the show at a smaller medical gathering in April. Bristol-Myers and Roche Holding AG are also presenting results in lung cancer.
Here's a list of companies to watch:
Merck's "Keynote-042" presentation on Sunday is one of the conference's most anticipated events. The drugmaker will release new overall survival data from the pivotal trial of Keytruda compared to chemotherapy alone as primary treatment in patients with locally advanced or metastatic non-small cell lung cancer.
Roche will release data from its Phase 3 "IMpower131" study on Tecentriq plus chemotherapy compared with chemotherapy alone in patients with advanced squamous non-small-cell lung cancer.
Bristol-Myers will present data on PD-L1-negative patients from its "CheckMate-227" trial assessing Opdivo plus chemo, and Opdivo plus Yervoy versus chemo, in first-line non-small cell lung cancer.
Netkar will present data from patients treated with NKTR-214 in combination with Bristol-Myers's Opdivo across tumor types. An abstract released May 16 showed lower response rates in melanoma, causing the stock to fall. The company's presentation on Saturday is likely to bring more clarity with at least three months of additional data and more patients treated, according to Piper Jaffray analyst Tyler Van Buren.
Alkermes Plc is developing an experimental cancer drug that works in a similar way as NKTR-214 and its shares may move with Nektar.
The company is expected to post an update Friday from its Phase 1 study of bb2121, an experimental CAR-T therapy targeting a protein known as BCMA. The data will be scrutinized after a doctor's comments earlier this year sparked concerns about potential patient relapses. William Blair analyst Raju Prasad said the keys for Bluebird will be duration of treatment effect and how well bb2121 works in patients with lower BCMA expression.
Bluebird is partnered with Celgene Corp. on bb2121.
Loxo will present an update from its Phase 1 study of LOXO-292 in patients with RET-altered cancers. The company's management recently said data at the conference will be improved and include more patients, according to Piper's Van Buren. Safety will be a key focus as it could help further differentiate the drug from a competing treatment from Blueprint Medicines Corp. that Van Buren said appears to cause "some hypertension."
Along with bb2121, Celgene will also present long-term data for JCAR017 in non-Hodgkin lymphoma. If the results look similar to prior findings, Celgene may be considered to have a more competitive CAR-T despite its late entry into the market, according to RBC analyst Brian Abrahams. Even so, William Blair analyst Andy Hsieh cautioned that "data at ASCO aren't likely to turn around the sentiment" for Celgene as a series of setbacks have sliced the company's market value in half since October.
Lilly aims to make a belated entry into the immuno-oncology space with its pending purchase of Armo BioSciences Inc. Results from Armo's pegilodecakin in combination with Opdivo or Keytruda in kidney cancer may prove to Lilly's investors that the company can find the right deals, Evercore ISI analyst Jonathan Miller said in an interview. The acquisition of Armo is valued at about $1.5 billion and is expected to close in the second quarter, according to data compiled by Bloomberg.
Tesaro will present updated data on Sunday for Zejula combined with Keytruda in triple-negative breast cancer. The early results are important as they'll help show whether Tesaro can broaden Zejula's use in other types of tumors or by showing synergy with PD-1 agents, according to Bloomberg Intelligence analyst Asthika Goonewardene.