Mario Draghi Should Steer Clear of the Prosecco
(Bloomberg Opinion) -- The European Central Bank turns 20 years old on Friday and there's some cause to celebrate. In May, inflation in the euro zone finally climbed back to its objective of below, but close to, 2 percent.
Policymakers shouldn't go overboard on the cake and warm prosecco, though. Inflation may be back where the ECB wants it, but it's yet to be sustained around these levels. President Mario Draghi still needs to be careful about tightening monetary policy too quickly.
On Thursday, official data showed prices in the currency area rose 1.9 per cent in the 12 months to May, up from 1.2 per cent in April. While that's the highest reading in more than a year, the return to the target level was caused mostly by one-offs including the rising oil price. Core inflation, which excludes energy and food prices, was still 1.1 per cent.
This isn't to downplay the achievement completely. The ECB is spending 30 billion euros ($35 billion) each month on sovereign and corporate bonds to encourage companies and consumers to spend more. Any signs of life are welcome, especially with the program of quantitative easing set to expire at the end of September. Several members of the ECB's governing council are reluctant to keep it going much longer.
But they'd be unwise to end the stimulus too soon. While wages are finally rising in a more sustained way, the euro zone economy shows little sign of overheating. The political crises in Italy and (to a much lesser extent) Spain have caused sovereign bond yields to rise. That could undermine confidence and tighten the financing environment.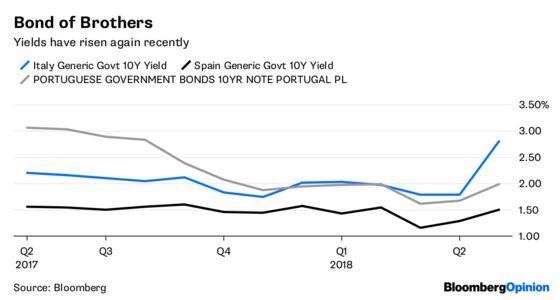 Of course, the ECB doesn't have the power to offer special support to any country – including Italy – unless a government applies for a rescue program. Nevertheless, it makes sense to wait to see if the recent turmoil affects the euro zone economy before reining in the bond purchases. A little patience would help avoid a repeat of the ECB's big mistake in 2011, when it raised interest rates twice just as the sovereign debt crisis started to engulf the bloc.
The best course of action, therefore, is to stay the course. When the governing council meets in two weeks, it should do what it's done in the last few meetings: State that it's continuing to monitor the economic outlook and is keeping its options open over the future of quantitative easing. Policymakers will be able to offer more guidance to financial markets when they meet again in July.
Under Draghi's leadership, the ECB has steered the euro zone economy out of the crisis and toward a phase of expansion. For all the progress on the inflation goal, that mission is not complete. Waiting a little longer will let the ECB's suits throw a proper party further down the line.