Mighty May Auto Sales Show U.S. Economy Cruising in Sweet Spot
(Bloomberg) -- Auto sales were supposed to slow again this year. But with the U.S. economy chugging along, car shoppers keep strolling into showrooms.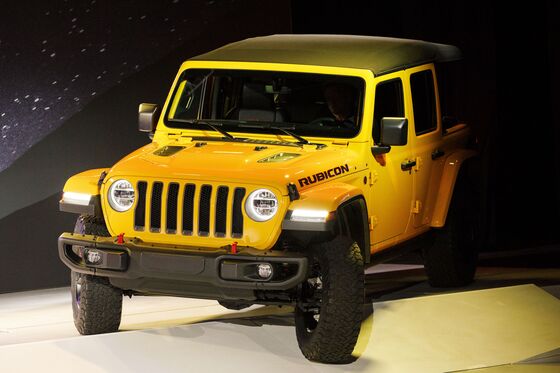 The pickup in hiring and President Donald Trump's tax cuts have helped keep new-vehicle demand humming. Almost every automaker's May results beat analysts' estimates, and several posted increases, led by General Motors Co.'s 12 percent jump and Fiat Chrysler Automobiles NV's 11 percent gain. Profitable sport utility vehicles and pickups also are defying rising gasoline prices and interest rates.
"It's like the best of both worlds," said Charlie Chesbrough, senior economist for researcher Cox Automotive. "We're seeing economic activity has just really started to pick up in a lot of sectors," thanks to a "sweet spot" of job growth with tempered wage increases.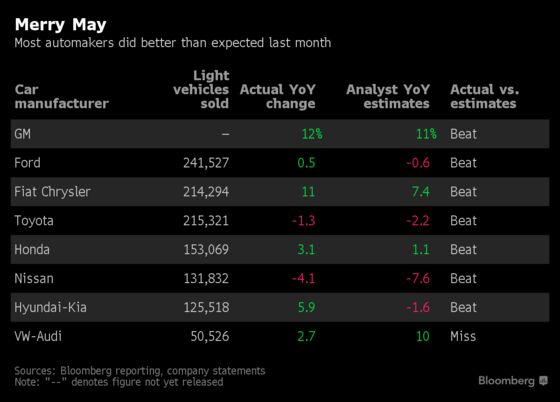 Ford Motor Co. eked out a surprise U.S. sales gain last month, buoyed by the best May in 18 years for its cash-cow F-Series truck line. A 29 percent surge for the Jeep sport utility vehicle brand carried Fiat Chrysler to a bigger-than-expected gain. And Japan's three biggest carmakers also beat analysts' estimates on strong demand for Nissan Rogue, Honda CR-V and Toyota Highlander crossovers.
"The only thing you can really point to would be that tax reform that happened at Christmas time -- that additional money consumers are taking home with them is having a positive impact on their wallets and their confidence," Chesbrough said.
After seven years of growth, capped by a record 17.6 million deliveries in 2016, the U.S. auto market contracted last year and was expected to dip below 17 million in 2018. Last month's pace of 16.9 million accelerated from a year earlier and beat the average analyst estimate for 16.7 million.
Even expensive gasoline isn't the economic bugaboo it once was. American consumers are shrugging at the sight of pump prices nearing $3 a gallon for the first time in years and plowing ahead with purchases of big pickups and SUVs.
With the U.S. unemployment rate matching the lowest in 48 years and consumer confidence on the rise, gasoline will have to get more expensive to have any meaningful impact in buying patterns. The light truck segment -- which includes pickups, SUVs and crossovers -- has been seizing record share of the U.S. auto market, prompting Ford and Fiat Chrysler to pull the plug on many of their passenger cars.
"The movement into SUVs and out of cars is accelerating," Mark LaNeve, Ford's U.S. sales chief, said on a conference call Thursday. "If fuel prices become a concern for the customer, instead of moving into a sedan, they move into a smaller SUV or a newer one with better fuel economy."
For Bloomberg's TOPLive blog on U.S. auto sales, click here
So far, Nissan has seen no impact from rising fuel prices, said Billy Hayes, the U.S. division vice president for the brand in the U.S.
"The market doesn't seem to be responding to fuel prices at all," Hayes said in a phone interview. "We're not hearing about any reaction from consumers. Is the magic number $4 a gallon, or $5, or $6? I don't know. We're well positioned to absorb anything that hits."
Another presumed headwind may have little effect -- or even provide a temporary boost -- to demand. Rising interest rates probably reached highs not seen since 2009 last month, according to researcher Edmunds.
"Since interest rates have been creeping up all year, shoppers are likely thinking it's better to buy now before rates get any higher," Edmunds analyst Jeremy Acevedo said. "However, this is likely a temporary pull-ahead effect, and could come back to bite automakers later in the year."
The drumbeat of political news, such as trade wars with China and U.S. allies Canada, Europe and Mexico, has contributed to some stock market tumult. But it's not affecting consumers, said Jeff Schuster, senior vice president of forecasting for researcher LMC Automotive.
"We're looking at auto sales that are outperforming expectations again," Schuster said. "Most people have compartmentalized the political environment from their personal environment and said, 'All of that noise and volatility can continue, but I'm going to live my life."'