Europe's Drug Agency Warns of Bigger Staff Losses in Brexit Move
(Bloomberg) -- Europe's drug watchdog is bracing for higher-than-anticipated staff departures due to its Brexit-induced move to Amsterdam, raising pressure on the agency that oversees medication safety for about 500 million people.
A host of issues, including the effect of local labor laws on short-term contracts, could boost employee losses at the European Medicines Agency beyond 19 percent, the level it estimated last year, Executive Director Guido Rasi said in an interview at its headquarters in London's Canary Wharf district. Hitting that target will be "very challenging," he said.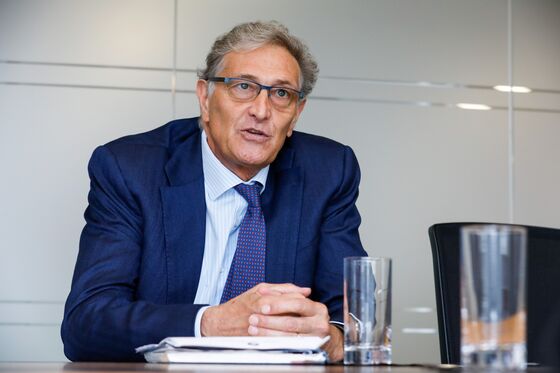 "The level of uncertainty is still high because of practicalities," Rasi said. "We are monitoring it on a daily basis."
With a workforce of about 900, the EMA is emigrating to the Netherlands just as it begins evaluating more complex products, such as therapies that correct gene defects. The move has sparked concerns about disruptions at the agency -- the EU's equivalent of the U.S. Food and Drug Administration -- although Rasi said he doesn't expect a slowdown in approving new medicines.
Housing searches, rising costs of living, finding jobs for spouses and partners, and uprooting as many as 500 children are among the issues EMA employees face as Britain prepares to leave the EU in March 2019. Short-term contractors could also be affected since Dutch law allows them to become permanent after two years.
The shift to a new home is delaying training in areas such as big data and gene therapies and slowing improvements to technology systems, Rasi said. However, in one positive sign, he said the agency has a reserve list of more than 1,000 applicants that it can tap when it needs to fill vacant roles.
"There will be a dip, but we will be back and we will be back as strong and as good as ever," he said.
The European Union in November picked Amsterdam over 18 other European cities contending to be the regulator's new address. The agency projected last year that losing less than 35 percent of its workers would allow on-time approval of new medicines and safety monitoring to be largely maintained, and a staff survey found that 19 percent would likely quit in a move to the Dutch city. It was employees' top choice and the option viewed as least likely to result in attrition.
Despite efforts to mitigate the Brexit impact and constant monitoring of potential personnel gaps, the EMA said that its earlier projection was an "underestimated figure."
U.K. experts carry out about a fifth of the EMA's work, and drugmakers have also expressed concern that the supply of medicines could be disrupted if Britain isn't part of the European drug-approval process. Prime Minister Theresa May said in March that the country will explore how it can remain part of EU agencies such as the medicines regulator.
"The U.K. should seek continued membership of the EMA and its rules to ensure its industry can remain competitive and efficient," as well as maintain access to drugs and advance the nation's international position, said Ben Digby, international director of the Confederation of British Industry, a lobbying group.
Rasi, a microbiologist, physician and former head of Italy's drug regulator, said that the U.K.'s contribution to EMA activities will be redistributed among other EU countries. The response by many of the 27 remaining EU members to fill the void has been "fast and massive," he said.
The EMA must rely on experts who will be available throughout the entire assessment process, ruling out the U.K. for work expected to extend beyond March of next year, Rasi said.
"Twenty-seven can easily replace one, but it was a very good one in terms of quality," he said. "If you have to replace that, you go to a certain level of uncertainty. However, Europe is quite well placed with all of the expertise that you need."